A massive crowd sent the Patriots off to Houston with a Gillette Stadium rally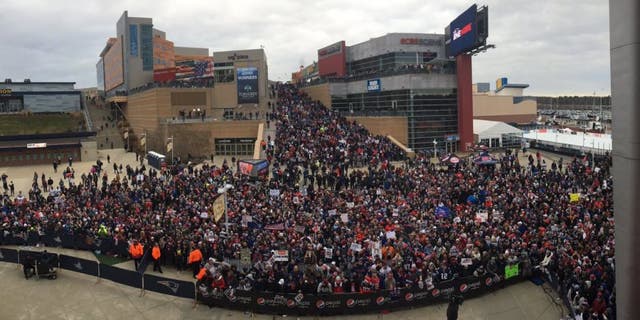 NEWYou can now listen to Fox News articles!
The New England Patriots are less than a week from their ninth Super Bowl appearance in franchise history, and Monday will bring them one step closer to that becoming a reality. A day after the Atlanta Falcons made their way to Houston, the Patriots are doing the same Monday.
They're set to arrive at the airport this afternoon, but before boarding the flight, the team hosted a send-off rally at Gillette Stadium. And just as the Falcons were Sunday, the Patriots were sent to Houston by a massive crowd of raucous fans.
The steps to Patriot Place were flooded with Pats fans who were overcome with excitement as their team headed to a record ninth Super Bowl.
Some were apparently at Gillette Stadium at 3:30 a.m., which shows some serious dedication to the team.
Tom Brady capped off the rally with "Go Pats, let's go!"
Ty Law was also in attendance for the send-off, declaring the Patriots are going to bring back a fifth Lombardi Trophy.