7 points: Oklahoma journeys to West Virginia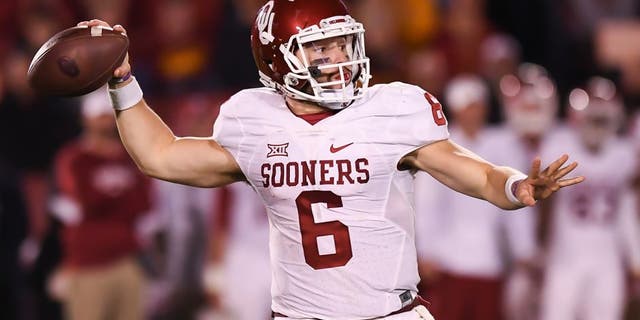 1. OU defense: This unit must play its best game of the year in Morgantown for the Sooners to win and clinch the Big 12 Title. Case closed.
2. Tackle better: OU must tackle more effectively and definitively. Tackling is said to be a mindset while poor-tackling teams rarely win truly big games. This is a big game...a gridiron Survivor Series.
3. Secondary play: One has to assume WVU will challenge the Sooner secondary and why wouldn't the Mountaineers? OU winning its share of 50-50 balls and eliminating big plays that motivates the WVU fan base has to be a high priority.
4. Baker Mayfield: The prolific, Oklahoma offense is driven by the talented QB who's having an amazing year that is at times seems overlooked or taken for granted because of the success of Dede Westbrook and Joe Mixon. The charismatic leader and trigger man of Lincoln Riley's "O" started getting a haircut every 2 weeks since the Ohio State game. It's working as OU hasn't lost since.
5. Kicking game: How many times have we seen a great punt that recaptures field position, hitting a crucial field goal or making a timely return influence a big game? Every special teams snap is a potential, difference maker in this showdown. Is it irony that OU has placed their kicking fate in the hands of a big time kicker named "Austin?"
6. Mental toughness: OU must deal with predicted cold and wet weather, WVU's crazed fan base, and a ranked team that's 8-1 and that MUST win as the home underdog to have a shot at its first Big 12 Championship. Slobber Knocker time.
7. Time of Possession: This facet of the game may mean a bit more this week. If OU's offense can control the clock, that would keep the Sooner Defense from being on the field too much and also quiet the crowd. Sooners running game needs a big game.
Expect a terrific, college football game in prime time with the Sooners' No. 5-ranked 2017 recruiting there class to see. Nonetheless it's hard to imagine a team that's giving up 30 points per game winning championships but the Sooners are some how close to pulling that off. (Sooner Magic?) WVU has high expectations this season, a top 10 ranking but has not defeated OU since joining the Big 12. Are the Mountaineers due?
Finally, beware of friendly fans offering to share their apple cobbler moonshine.
Prediction: OU 35 WVU 34
Boomer Sooner!
Jim Ross @JRsBBQ
Jim Ross on Twitter @JRsBBQ, listen to him on the Ross Report Podcast, and see him live at RINGSIDE: An Evening with Jim Ross. JR's products are also available online at wweshop.com,americansoda.co.uk and beyondtheropes.co.uk