7 fearless MLB trade deadline predictions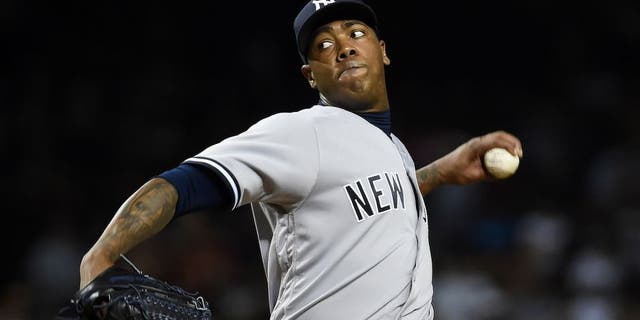 NEWYou can now listen to Fox News articles!
Major League Baseball's Aug. 1 non-waiver trade deadline is creeping up on us and trade rumors are flying left and right as teams jockey into position for the home stretch of the season. The sellers have been identified -- €" even if the teams themselves might not know it yet -- €" and the buyers are plentiful. It's a great time to be moving pitching, and bats -- €" while they don't come at quite the premium of an arm -- €" should catch impressive prices as well.
How will it all shake out? Reading the tea leaves, we can only venture these prognostications:
Aroldis Chapman
The flamethrowing reliever was acquired from the Reds for a song this past offseason, and the Yankees can sell high this July. The Nationals need final innings help -- €" that's not exactly new -- €" and Chapman would probably slide right into the ninth inning role. The Nats have five players on Baseball America's Midseason Top 100 prospects list, and righties Reynaldo Lopez or Erick Fedde would make attractive centerpieces of a big prospect package.
Andrew Miller
This is the year for the Cubs. While Joe Maddon's team is likely to be in this position for the next half decade, you can't take any chance to win a World Series for granted in Chicago. It only takes one to break the curse. Acquiring Miller, who has been one of the best relievers in baseball this season, would go a long way to improving the Cubs' only noticeable weakness -- €" the bullpen. Miller, Pedro Strop, and Hector Rondon would make an impressive 7th-8th-9th combination, and Miller, with his 15 strikeouts per 9 mark this season, wouldn't take long to work his way to the end of the line. Miller is on a favorable contract and is under team control for another year, which makes his trade cost prohibitive for plenty of teams. The Cubs have a stocked farm system and nothing to lose. With three hitters in the BA Top 100, they can swing this deal and go for that elusive crown.
Matt Moore
The Rays don't make much sense these days. They've seemingly abandoned all the things that made them one of the American League's best teams not too long ago. There's no guarantee they trade Moore this July, but they'd be wise to do so -- €" his numbers are average at best this season, but the market for starting pitching is so poor (the Red Sox gave up a top prospect for Drew Pomeranz earlier this month) that Tampa Bay can cash in big without losing much. The Dodgers have a stocked farm system and a desperate need for starting pitching. Pick a pair of B prospects and Moore is yours, LA. This deal makes too much sense not to go through.
Jonathan Lucroy
The Tigers have to keep going for it -- €" they've come too far to start replenishing the farm system at this juncture. The Wild Card is in sight, and the Royals are nipping at their heels. It's time to go all-in and replace the team's biggest position of need -- €" catcher. Jarrod Saltalamacchia and James McCann have been poor at best, and neither has the ability to be a two-way guy anymore. Lucroy might be the best all-around catcher in the game today. The Tigers really need to focus on adding to the pitching staff, but seeing as almost every playoff contender is interested in doing just that and prices are through the roof, they might be best served to give up the team's final few tradable prospects to get Lucroy. The Dodgers, Mets, and Rangers are teams that could make a move for for the catcher, who is on a super cheap $5.25 million club option next year. All three teams have deep farm systems and an obvious need behind the plate, but the Brewers might end up asking for too much to move him now. The Tigers, who are in the final years of Miguel Cabrera's peak, can't afford to hold back this summer.
Jay Bruce
There's plenty of speculation around Bruce and the Indians, but Cleveland is likely to get outfielder Michael Brantley back at the end of this month, and that's one of the best midseason pickups anyone in baseball could get. It's certainly better than Bruce, who was an All-Star this year. Bruce's high strikeout rate and poor defense should scare off some teams, like the Royals and Giants, who value putting the ball in play, but the Jays have no such hangups about that. Bruce, Jose Bautista, and Edwin Encarnacion can start up a rotation between the outfield, first base, and designated hitter.
Rich Hill
Eventually, the A's will drop the price on the 36-year-old pitcher who was pitching in independent ball not too long ago, and as aforementioned, the Rangers have the pieces to make it happen without dipping into the top-level prospects.
Josh Reddick
The Royals have had their eye on Reddick for a while, and while Carlos Beltran might be a viable and cheaper trade target (and a fascinating reunion) Reddick is unquestionably the better player. The Royals don't have as much to spend in a trade after acquiring Johnny Cueto last summer, but the team is ravaged by injuries and needs to bolster the lineup if they intend on defending their World Series title.
A deal with the A's for Reddick could also include third baseman Danny Valencia, a former Royal, for a nominal fee -- €" if any. Valencia has been tremendous for the A's but the team is looking to evaluate the future and Valencia is reportedly a DFA candidate. Getting a slash line of .301/.352/.490 with positive defense at a position of need as a relative toss in would be a great deal for Kansas City.