5 things we'll learn about the Broncos and Panthers after Super Bowl 50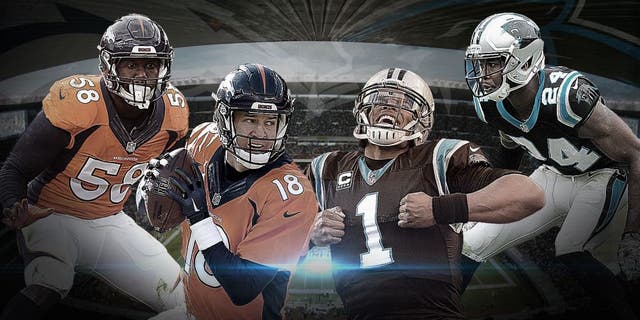 After almost two weeks of hype, all of the questions surrounding the Super Bowl 50 matchup between Denver and Carolina are about to get answered.
Here are five things we'll learn about both franchises after Sunday's matchup at Levi's Stadium.
1: Exactly how much does Peyton Manning have left in the tank?
Broncos general manager John Elway adroitly assembled a supporting cast to cover for the flaws in Manning's quarterbacking stemming from age and a series of neck surgeries that have affected his throwing acumen. But against an opponent like the Panthers, the 39-year-old Manning must provide something in the passing game whether efficiency by continuing to avoid turnovers (78 pass attempts without an interception and counting) or the chunk plays that have been missing from Denver's offense. Manning has completed only four passes of 20-plus yards since returning from a foot injury in the second half of the regular-season finale against San Diego.
2: Should the Panthers be considered among the NFL's all-time best teams if they win?
Even when going undefeated through their first 14 regular-season games, the Panthers weren't being mentioned in the same breath as greats like the 1972 Miami Dolphins or 1985 Chicago Bears (to name a few). History will look more kindly if Carolina can become only the fourth team to ever win a Super Bowl with one or zero losses. The last 18-1 squad to win the Super Bowl was the 1985 Chicago Bears and their only loss came by a larger margin (14 points to Miami) than Carolina's 20-13 defeat at Atlanta in Week 16. The Panthers also have outscored their opposition by an average of 11.3 points a game through the postseason. The last Super Bowl winner to post such a wide margin entering the game was the 2009 New Orleans Saints.
3: Is the Broncos pass rush one for the ages?
After notching a league-high 52 sacks during the regular season, Denver's defense can secure that respect by doing what Seattle and Arizona couldn't do during the playoffs – slow Cam Newton's roll. Because of his mobility and the run-heavy nature of Carolina's offense, Newton provides a much different challenge than the one presented in the AFC Championship game by New England pocket-passer Tom Brady and his quick release. Roman Oben, a 12-year NFL tackle and Super Bowl 37 winner with Tampa Bay, told co-host Gil Brandt and me on SiriusXM NFL Radio that the outside pressure from Broncos outside linebackers Von Miller and DeMarcus Ware will force Newton to step up in the pocket where he may be more prone to make a mistake. Carolina's interior offensive line won't have it easy either with ends Derek Wolfe and Malik Jackson flourishing since renowned position coach Bill Kollar joined the Broncos this season to help coordinator Wade Phillips install a 3-4 scheme. Carolina's wide receiving crew also must find a way to get open against a secondary that Newton credited as having three shutdown cornerbacks in Chris Harris Jr., Aqib Talib and Bradley Roby.
4: After engaging in a war of words through the media, who will win the battle between Broncos wide receiver Emmanuel Sanders and Panthers cornerback Josh Norman?
The first salvo was fired when Sanders said Norman had "talked himself into the media" to build his reputation as arguably the NFL's top cornerback. Norman responded by saying, "I think you'd have to be pretty darn good at what you do to talk your way into the spotlight. I haven't been hearing much about him. Obviously, he may want to go back and go practice some more." Considering the state of Carolina's secondary, the Broncos may avoid throwing in Norman's direction and instead target two other cornerbacks (Robert McClain and Cortland Finnegan) promoted to prominent roles because of injuries to others.
5: How much did injuries entering the game play a part in the outcome?
After fracturing his forearm in the NFC title game against Seattle, Carolina linebacker Thomas Davis is on track for an amazing recovery to start against Denver. The keys now are whether Davis can still be effective tackling and if he can avoid re-injury. Denver's biggest issues are in the secondary where safeties T.J. Ward (ankle) and Darian Stewart (knee) are expected to start despite being limited in last Wednesday's practice. Both are key factors in run support and trying to contain tight end Greg Olsen, who is Carolina's leading receiver. There is a significant drop-off from Ward and Stewart to backups Josh Bush and Shiloh Keo.