5 reasons Alabama shouldn't be favored to win the SEC in 2016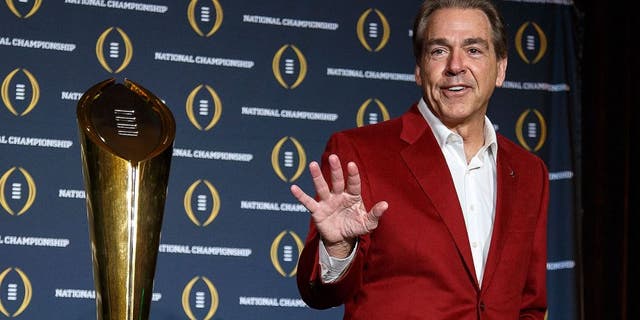 NEWYou can now listen to Fox News articles!
SEC Media Days are officially underway, with all the usual, pomp, circumstance and theatrics that always seem to fill the halls in Hoover, Alabama this time of year. There are the wacky fans. The off-beat media. And of course, the promises of championship glory from every coach who takes the podium, promises which will almost certainly never be fulfilled.
That's because as long as Nick Saban is the SEC, everyone in the conference will always play second-fiddle to the Emperor of College Football. But while the Crimson Tide are the defending National Champions (and two-time reigning conference champs), there are genuine signs for concern heading into 2016.
First there was the Cam Robinson issue earlier this spring (one which was settled rather gruffly on Wednesday morning) and since then, things have been far from rosy in Tuscaloosa.
As a matter of fact, I'm going to go out on a limb and say something blasphemous about the single most dominant program in college football right now: Alabama should not be the favorites in the SEC this year.
Don't believe me? Here are five reasons why:
When A.J. McCarron left Tuscaloosa in 2013 after three years as a starter (which included two National Championships) no one could have expected that three years later the Tide still wouldn't have come up with a logical successor. McCarron's departure gave way to Blake Sims, who then ushered in Jacob Coker last year, which led to... wait, who is the Tide's starting QB this year?
It's a fair question, and even though the guys jockeying for the position (redshirt freshman Blake Barnett, redshirt sophomore David Cornwell, redshirt junior Cooper Bateman) all were five-star studs coming out of high school, it does raise a very interesting question: If any of them were that good to begin with, why haven't they won the job already? Heck, why didn't they win it last year? It's not like Coker blew the doors of Bryant-Denny Stadium to open last season, throwing just two touchdowns and one pick in the first two games, before losing the job to Bateman in Game 3, and then earning it back for good the following week.
It also raises another interesting question: At some point, all this turnover and attrition at the most important position on the field has to catch up with 'Bama, right? How many times can you break in a new quarterback, with a bunch of new receivers, in a place as grueling as the SEC West?
Especially when you consider...
And really, this is what makes things so different than in years past: Not only are the Crimson Tide breaking in a new quarterback, but the man snapping him will be new as well. That's because after three years starting under center, Rimington Award winner Ryan Kelly is off to the NFL, where he's now a member of the Indianapolis Colts.
It also means that in addition to breaking in a third new quarterback in three years, they'll be breaking in the center as well. The center is the anchor of the offensive line and generally the guy who helps audible blocking schemes, meaning his role is crucial to any team, especially one with a new QB.
It's also why on, at least some level, even Saban seems concerned. Prior to his dust-up over Robinson, Saban spoke to the SEC Network on the importance of the position, saying:
"The center is the most critical position on the front, regardless of who the QB is."
Let's also keep in mind...
To Alabama's credit they've never had problems replacing running backs under Saban. Trent Richardson replaced Mark Ingram, then Eddie Lacy replaced Richardson. And so on, through this year. Therefore, in theory, there should be no reason to worry; fans might not be familiar with Henry's replacements --- Bo Scarbrough and Damien Harris --- but that doesn't mean they aren't talented. They are at Alabama after all, right?
Well, yes, but at the same time, it is fair to ask this simple question: If either one was so good, why didn't they see the field more last year? After all, for all the talk about Alabama's dominant running game under Saban, what's easy to forget is that the team has usually implemented a two-running back platoon throughout his tenure there as well. Ingram shared carries with Richardson, Richardson with Lacy, Lacy with T.J. Yeldon, and Yeldon worked with Henry back in 2014.
So why was Alabama so hesitant to use either Scarbrough or Harris last year, especially when Henry tallied up an ungodly 395 carries, including a mind-bogging 90 in a two-game stretch to end the year?
Is it possible that maybe neither just isn't as game-ready as we expected?
Say what you want about the role that Kirby Smart actually had in Alabama's defensive game-planning (and whether Smart's "role" was actually just dictating what Nick Saban wanted), but it is worth noting: This is the first time since 2008 that there will be a new voice in the Alabama defensive meeting room.
It also raises the question: Despite the obvious talent that remains in Tuscaloosa, how will the Alabama defense adjust to life under new coordinator Jeremy Pruitt. Pruitt wasn't at Alabama last year, and instead comes from Georgia, where he served as the defensive coordinator the last two years. The year before that he was at Florida State, where he helped with a National Championship, and before that, he was actually at 'Bama as a DB's coaches.
But while his resume is sparkling, it is worth wondering how he will adjust to life as the head of the defense in Tuscaloosa. We all know that Saban has (at best) a sometimes temperamental relationship with his coordinators, especially new ones (see "Kiffin, Lane") and it's not like Pruitt was familiar with most of his personnel prior to taking the job. Most of the players on 'Bama's two-deep were recruited long after he left Tuscaloosa the first time.
It also doesn't help that Pruitt's defense will be on display for the first time, in a brutal opener against a dangerous USC squad.
Speaking of USC....
Even if 'Bama gets by that first game against USC (not a given, with all the talent the Trojans are returning) there are still tough games all over the schedule.
Just two weeks after playing USC, there is an SEC opener at Ole Miss, a team which has beaten the Crimson Tide the last two years. Tennessee is as good as it's ever been since Saban got to Alabama and that game is in Knoxville. The matchup with the Vols comes just one week after a visit to face the physical, tough Arkansas Razorbacks squad.
Then there's that annual first-weekend-of-November rite of passage against LSU.
The Tigers will be as loaded as they've been in years, and as tough a matchup for the Crimson Tide as they've been since the 2011 season where the two teams met in the BCS title game.
Point being, there are real causes for concern this year in Alabama, and plenty of reason that the Crimson Tide should not be considered the favorites in the SEC.