5 college football over/unders Las Vegas completely whiffed on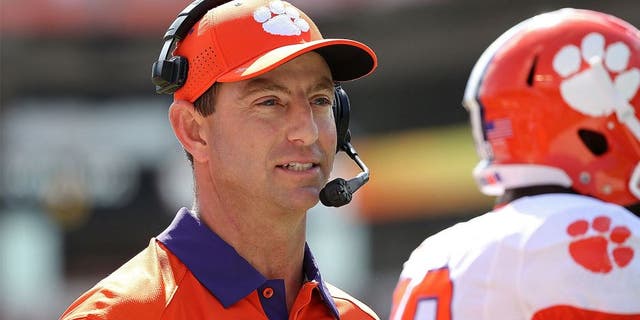 NEWYou can now listen to Fox News articles!
Throughout the spring, there are plenty of signs that college football season is getting closer, and one of them is when Vegas starts releasing over/under win totals. That's exactly what happened late Thursday when the Golden Nugget released its over/under odds for the 2016 season.
As it turns out, Vegas got a few teams wrong.
Here are five teams that I believe Vegas completely missed on.
Earlier this week I made the case that LSU is favorite to win the SEC, so therefore betting the Tigers at over 9.5 is basically stealing money.
For starters, LSU returns more talent than just about anyone in the SEC in an offseason where SEC West rivals Arkansas, Ole Miss and Mississippi State all lost a bunch of talent to the NFL. Cross-divisional rival Florida seems due to take a step back as well.
Also don't forget that Alabama is breaking in a third new quarterback in three years, with a new defensive coordinator as well.
If LSU were ever going to beat 'Bama, this year would have to be it, right?
Considering that plenty of people have Ole Miss in their preseason Top 10 you might think I'm insane for saying take the "under" here. That's fine, call me insane. I've been called much worse.
At the same time, the Rebels lost a ton of talent (including three first-round picks), and their schedule is absolutely brutal. It starts with an opener against Florida State in Orlando; there's a meeting with Alabama less than two weeks later; and games against Arkansas, LSU and Texas A&M are all on the road. Plus, the SEC did the Rebels no favors with a cross-divisional game against Georgia.
We know Chad Kelly is good, but is he good enough to lift the Rebels against all that top competition?
Admittedly, I actually have more questions about the overall makeup of Clemson than most people (mainly the losses on defense), but have you seen that schedule? It's tailor-made for, at worst, 10 wins.
Yes, their two toughest games are on the road (Florida State, Auburn) but say the Tigers win one of those games. What's the next toughest on their schedule? It's probably Louisville, but the Tigers also don't play the two best teams in the Coastal Division (North Carolina or Miami) at all.
Considering Clemson has won at least 10 regular-season games in three of the last four years, and considering they also return some guy named DeShaun Watson, this feels like a smart play.
Talk about stealing: Someone should take us all away in handcuffs for getting the Trojans at over 7.5 wins.
Earlier this week I made the case that USC is a dark horse playoff contender. Yes, USC has to figure out who their quarterback is, but they also return their top two rushers from last season, arguably the top wide receiver in the country (JuJu Schuster-Smith) and quite possibly the best defensive backfield in college football.
The schedule is tough, but who would you say is definitively better than the Trojans in the Pac-12? Even an opener against Alabama doesn't seem as tough as even a week ago, with the Cam Robinson saga continuing to unfold.
There are a lot of very serious things going on at Baylor right now that have nothing to do with football and are far more important. At the same time, it could affect what happens on the field this season as well.
For one, there's the always tough round-robin Big 12 schedule (which includes road games at Oklahoma and Texas). Beyond that, what's the future of Art Briles at the school? Many, including FOX Sports' Bruce Feldman, have said that Briles might not make it to the season as the team's coach because of the growing list of assault allegations.
It's enough uncertainty to say that no one would be surprised if Baylor goes under nine wins this season.