49ers rookie long snapper Kevin McDermott quickly finding his way with guidance from veterans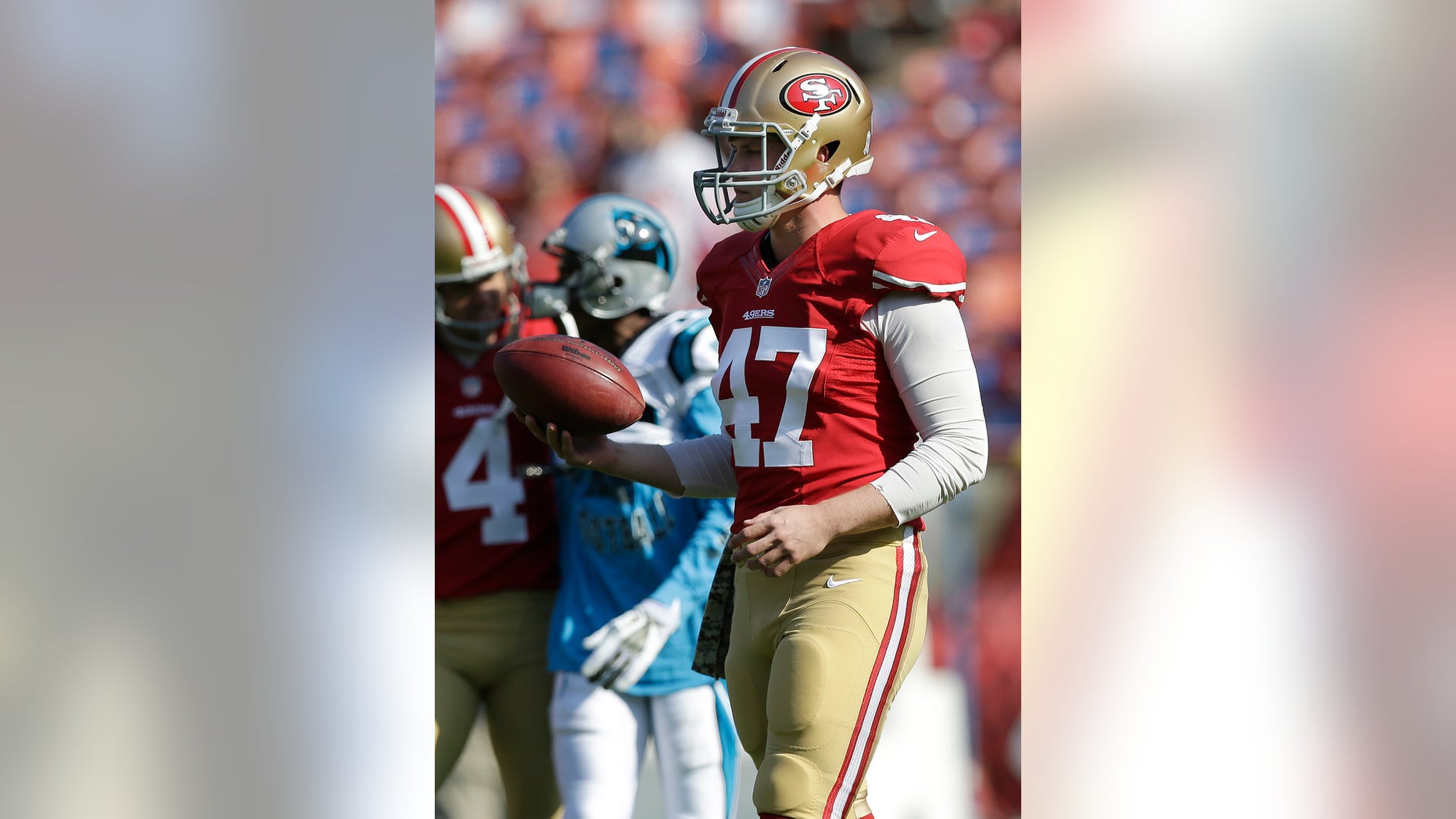 SANTA CLARA, Calif. – Kevin McDermott became a long snapper almost by default.
As one of 15 players on his middle school team in Nashville, Tenn., the coach asked everybody to line up and give long snapping a try.
McDermott enjoyed it, and showed some natural talent, too. A high school coach told McDermott's father he might have a college career ahead of him if he stuck with snapping. Sure enough, the 6-foot-4, 234-pound McDermott earned a scholarship to UCLA and quickly emerged as an NFL prospect.
While he went undrafted back in April, the rookie free agent got his shot when he signed with San Francisco in May — then, in a few short months became the starter by beating out 13-year veteran Brian Jennings, the longest-tenured member of the 49ers.
"If you are still around when the timer goes off, that's how you know you made it," McDermott said.
Not that he celebrated when an equipment manager told him in the cafeteria that he had won the job and that Jennings cleaned out his locker. McDermott stepped away to call his parents and girlfriend, then hit the practice field with the same focus that has gotten him this far.
"To his credit, he treated me with the utmost respect," McDermott said of Jennings. "That says a lot about the guy. I'm a 23-year-old rookie coming in to take his livelihood. I've prepared for years to play at this level. I just came in and tried to learn everything I could from him."
Along with special teams coach Brad Seely and a pair of helpful veterans in place kicker Phil Dawson and punter Andy Lee.
They all know the benefits of staying under the radar because one slip up and it could become big news.
"He's done well," coach Jim Harbaugh said. "That there aren't weekly questions about Kevin McDermott and his snapping, that's a real positive. When the snapper's not, when you're not talking about the snapper, then he's doing well. Been a lot of pressure snaps and done a real fine job and it's good to point that out."
During a recent workout, McDermott looked one way and caught a ball from Lee, then turned the other direction to watch Dawson sail a kickoff over the end zone. A lot of McDermott's learning comes through observation of the veterans.
"It's been invaluable to me. These two guys have not only been in the league for a long time but they're Pro Bowlers and they've been successful at what they do," McDermott said. "Any information they're willing to extend to me I eat up. They've been great about taking me under their wing and teaching me things and just following their example is extremely helpful because I can learn how to be professional. It's more watching how they handle themselves, how they prepare for every game, and their results on the field are fantastic."
McDermott's poise impressed everybody from Day 1.
"From an emotional standpoint, the first time I met him I was impressed with his presence," Dawson said. "I don't know how much credit Andy and I deserve. He's a very mature rookie. You can tell he had a really solid upbringing. He's come into the league very prepared. Because of his personality, because of his talent, because of his work ethic, I think he's got a bright future ahead of him."
His father, also Kevin McDermott, never figured on a pro football career for his son. With his size, he initially seemed better suited for basketball. Yet the elder McDermott remembers how the then-teen's Ensworth School coach for both basketball and football noted that the young man might have what it takes to be a college long snapper if he stuck to it.
Now, the dad plays his role with regular reminders about staying humble with each step at this level.
"We're delighted and proud of him and delighted he's made it this far," the father said. "We understand it's a tough business. He's in a position that hopefully no one will ever notice him. Any time you notice somebody like that is when they make a mistake. He understands that he's got to keep his head down and keep working and not let anything go to his head. He's only one mistake from real work reality. I've told him that."
McDermott hears it at work as well. Specialist jobs are limited and hard to come by.
"He doesn't have a lot of highs and lows, and I get on him all the time being a young guy and a rookie, because there's stuff he just hasn't experienced yet," Seely said. "He's really good about taking coaching and really good about trying to improve and he doesn't get down when anybody gets on him about what he did. He's been outstanding as a young guy."
___
AP NFL website: www.pro32.ap.org