49ers QB Colin Kaepernick: 'I'm not worried about job security'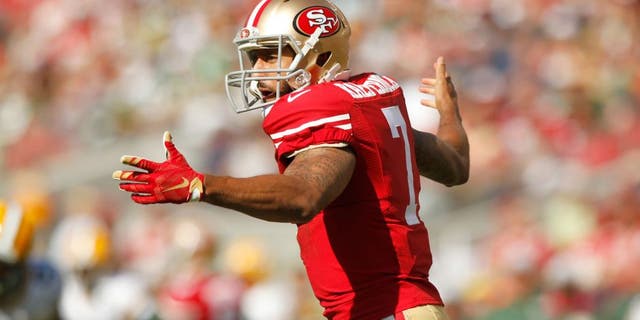 NEWYou can now listen to Fox News articles!
SANTA CLARA, Calif. (AP) -- San Francisco coach Jim Tomsula remains committed to Colin Kaepernick as his quarterback and maintains the fifth-year pro has not lost any confidence.
Kaepernick has struggled this season as the 49ers (1-3) look for ways to get the ball into the end zone. Kaepernick threw for his only two touchdown passes in a loss to the Pittsburgh Steelers three weeks ago. He's thrown five interceptions, four in a loss to the Arizona Cardinals, since then.
Kaepernick has been trending downward since a Thanksgiving Day loss at home to the Seattle Seahawks, a game that prompted team owner John York to tweet an apology to the fans in the closing minutes of the contest. Kaepernick's rating was a woeful 36.7. His rating against the Cardinals was 16.7.
Through his first 34 starts, Kaepernick was 24-10, including two trips to the playoffs. He's lost seven of his past nine starts, dating to the Thanksgiving Day loss.
Kaepernick looks to reverse that trend when the 49ers play at the New York Giants on Sunday night.
"I want a confident man; just full-bore ahead at that position," Tomsula said. "I believe it's critical and I believe in Colin Kaepernick."
At times it appeared Kaepernick was indecisive on passes in a 17-3 loss to the Packers last Sunday. He said later they were "protective passes." He amended that statement and acknowledged that he met with Tomsula on the subject.
"It was a conversation we had and he said, `Hey, just play to win. If something happens, it happens,'" Kaepernick said. "We have to go out and make sure we're making plays. I think there were throws I could have made to help us make plays. I put our team in a bad situation in the Arizona game. I wasn't going to allow that to happen again. It did cost us, yes. But that's something I correct moving forward."
Kaepernick, whose 67.7 passer rating currently ranks 32nd in the NFL, rated his confidence level at 100 percent.
"I go out, I play to win," he said. "I'm not worried about job security when I step in this building."
Tomsula said he and the coaching staff see no evidence of Kaepernick's confidence waning.
"We've had a lot of conversations," Tomsula said. "I'm a firm believer that the sword's always sharp on both sides. That would mean your biggest strength can sometimes hurt you. So, we've talked about that. Not that that is the problem. But, just looking at everything. And not just with him. With everybody going through it. We're 1-3. I have a hard time standing here and telling you anybody has played great or coached great or anything."
NOTES: LB Ahmad Brooks is tending to family matters and will be away from the team indefinitely. ... WR Quinton Patton (concussion), NaVorro Bowman (knee), OL Alex Boone (ankle, shoulder) and OL Joe Staley (leg) all missed Wednesday's practice. Boone and Staley, who participated in the morning walk throughs, are expected to return Thursday. ... TE Vernon Davis (knee) returned to the field and practiced on a limited basis. ... LB Gerald Hodges, whom the 49ers acquired in a trade with the Minnesota Vikings on Monday, made his first 49er appearance. "Happy to have him," Tomsula said. "I mean, he's a big, physical linebacker."