46 years ago, Jets-Browns launched Monday Night Football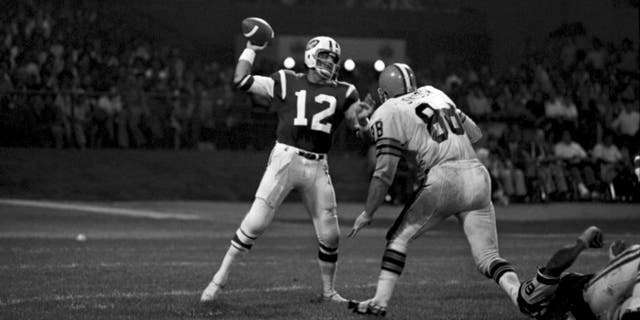 Blame it on Monday Night Football. There has to be some explanation for the futility of the New York Jets and Cleveland Browns, who meet Sunday in Cleveland.
These were the teams -- in name, since the Browns are technically a different franchise -- that faced each other in the first Monday Night Football game on Sept. 21, 1970 before 85,703 fans at Municipal Stadium and a nationwide audience.
Keith Jackson was the original play-by-play announcer, replaced by Frank Gifford the next season. Howard Cosell and Don Meredith joined Jackson on that telecast.
On the historical side, this season marked the first after the merger of the AFL and NFL. Hence, the Browns were no longer in the NFL, they moved to the American Football Conference, where they remain today. And this was the very first of what will be 23 meetings between the teams when they play Sunday.
The first game featured Joe Namath at quarterback for the Jets. Namath threw two touchdown passes ... one to George Sauer Jr. that cut a deficit to 24-21.
However, Broadway Joe followed that with a pass that was intercepted by Billy Andrews, who returned it for the game-clinching touchdown in Cleveland's 31-21 triumph.
The first MNF touchdown came on a pass from Bill Nelsen to Gary Collins.
The first MNF rushing touchdown came on a 2-yard run by Bo Scott.
There actually was a kickoff return for a touchdown by Homer Jones of the Browns. The 94-yard return for a score was made by a player who actually was best known for his years as a New York Giant.
And, there was one field goal. Don Cockroft, a straight-on kicker, booted that one from 27 yards.
The opener was a sign of things to come for the Jets, who two seasons earlier won the Super Bowl. The team finished 4-10. The Browns, meanwhile, went on to a 7-7 mark.
And Monday Night Football? It may have featured two teams going nowhere in its debut, but it must have done something right. Forty-six years later, it's the longest-running primetime series on television.