4/27/17: Miami Marlins at Philadelphia Phillies game preview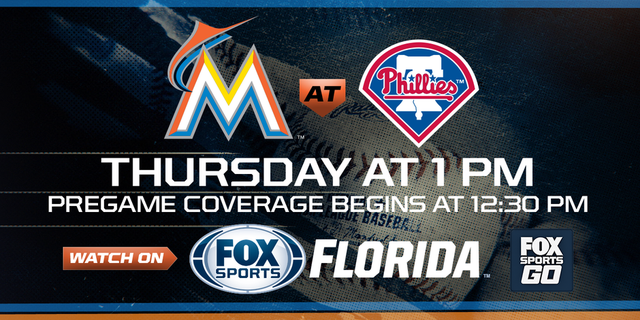 NEWYou can now listen to Fox News articles!
TV: FOX Sports Florida
TIME: Pregame coverage begins at 12:30 p.m.
PHILADELPHIA -- Phillies third baseman Maikel Franco is taking the advice of Philadelphia hitting coach Matt Stairs and starting to relax at the plate, content to drive balls to the opposite field instead of looking to pull everything to left field.
"Right now I feel really good," Franco said after hitting his second grand slam in two weeks in the Phillies' 7-4 win over the Miami Marlins on Wednesday night. "I'm not trying too hard. I'm trying to hit the ball up the middle and to the other side. That's an adjustment I've had to make."
Franco became the first Phillies player to ever hit two grand slams in April, and he is the first major league player to do so since Washington's Bryce Harper in 2016.
Entering the series finale against the Marlins on Thursday, Franco has driven in 11 runs in his past six games and has seven RBIs in his past three games. His 20 RBIs in April are the most by a Philadelphia player since Ryan Howard drove in 27 runs in April 2011.
"It's a long season, and it doesn't happen overnight, but when he starts hitting doubles to right field and turning on a fastball like that, it's real good to see," Philadelphia manager Pete Mackanin said of Franco.
The Phillies, who have won five straight, have also hit three home runs in back-to-back games. They have won five straight for the first time since April 26-May 1 last season.
"We feel really good," Franco said. "Everybody is playing with confidence, and we're playing the game the right way right now."
Attempting to slow Franco on Thursday will be Marlins right-hander Edinson Volquez (0-2, 4.82 ERA). Volquez has struck out 21 batters in 18 2/3 innings over four starts, and he has surrendered three home runs.
Volquez, 33, has not faced the Phillies since 2014, when he went 1-0 with a 2.77 ERA against them in two starts. In six career starts against Philadelphia, Volquez is 4-1 with a 2.17 ERA and 36 strikeouts in 37 innings.
Miami's starters have thrown a major league-low 98 1/3 innings, and Volquez has tossed only 7 2/3 innings over his past two outings, but manager Don Mattingly isn't overly concerned.
"We were built for this," Mattingly told MLB.com. "This is the way we put our club together, knowing that we were going with eight relievers, so we're getting more innings out of our bullpen. We're set up for it."
The Phillies (10-9) will send right-hander Jeremy Hellickson (3-0, 1.88 ERA) to the mound Thursday. Hellickson is 3-2 with a 2.71 ERA in 10 games against the Marlins. Last season, he went 3-1 against Miami in six starts, posting a 2.01 ERA.
Philadelphia's starters have allowed three earned runs or fewer in nine of their past 10 starts, holding opponents to a .212 batting average in those 10 games.
The Marlins (10-9) have homered in nine consecutive games since April 16, hitting a total of 17 homers in that span.