26K on BC-ND tix? You could have done this instead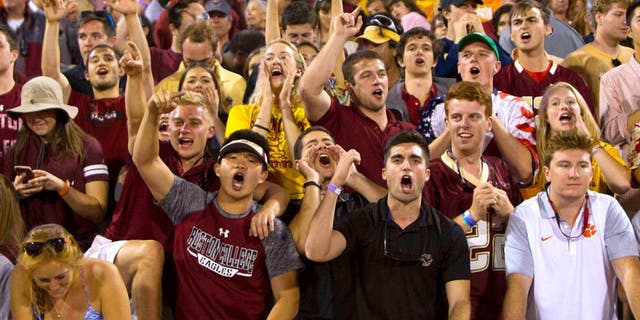 NEWYou can now listen to Fox News articles!
This summer Boston College fans were asked to donate $25,000 in order to buy a four-pack of tickets to this Saturday's Boston College-Notre Dame game at Feneway Park. Joshua S. Kelly www.foxsports.com/
Boston College fans who missed out on getting tickets to this weekend's Shamrock Series game against Notre Dame might want to take a few extra minutes to give thanks before digging into the turkey and stuffing this year.
On Saturday, Boston College (3-7), losers of six straight, will take on the fourth-ranked Fighting Irish (9-1) inside Fenway Park in a game in which the Eagles have about as much chance of winning as a turkey on a carving board. The only difference is that nobody paid, err donated, 25 grand to see the turkey get sliced up.
That's the fee Boston College had the gall to ask its fans to donate for the right to buy four, $400 tickets, which would bring the grand total to $26,600 just to see the Eagles likely get the stuffing knocked out of them.
You're probably thinking, "$26,600 is an outrageous price to pay to take your family to an amateur athletic event between one really good team and one really bad one," but you just don't get it. The game is special because it's part of Notre Dame's Shamrock Series. Plus, the teams are going to play football on a baseball field. You'd be crazy not to pay $26,600 to see that.
Still don't get it? Well let's look deeper into the Shamrock Series. Beginning in 2009, Notre Dame has forfeited the right to a home game in South Bend each year in order to play one in a popular venue in another team's backyard.
So basically, Notre Dame gets to come to town like the Beatles, sell out your famed local arena, recruit in your area and allow your own home fans limited access to tickets because technically they are rooting for the away team. Make sense now?
Here's what Boston College had to say about that in a statement released this summer: "Notre Dame has elected to play what would otherwise be a home game in South Bend at Fenway Park. Boston College, being the away team, will have access to the standard number of tickets for an away opponent -- set by the ACC -- of 5,000.
"The full allotment of 5,000 tickets will not entirely be available to fans as Boston College Athletics must work with several internal partners. The allotment will also accommodate current football players and football staff, BC students, as well as alumni and friends of the University supporting the Athletics Department."
So with that in mind, the idea to pay a $25,000 personal seat license fee, err donation, for a four-pack of tickets was spawned.
If you're kicking yourself because you missed out on the bargain, don't worry, here's some other things you could do with the $26,600 that's burning a hole in your pocket:
You could by four tickets to this year's National Championship game at the University of Phoenix Stadium for a total of $3,585.52 and drive your family there in a brand new Ford Mustang you bought with the change ($23,014.48).
Not a fan of long family car rides? That's fine. You could easily just stay home and invite your friends over to watch the game on a 65-inch Sony 4K Ultra HD Smart TV ($2,499.99) equipped with a the latest Boise Acoustimas 10 Series V 5.1 Chanel home theater system ($999.99) to duplicate all sights and sounds of game day. Though you will have to water down your own drinks.
Of course, you're going to want you friends and family to be comfortable, so you can use the
remaining $23,100.02 to by a Connie 20-foot Italian leather sofa sectional ($2,500), which conveniently comes with a side table, shelving space on both sides and a matching coffee table.
The guests will appreciate that when they are eating the 22 oz. bone-in prime rib dinners you ordered special for the occasion from Del Frisco's Steakhouse in Boston. Since you never know how many people will show up for a party you might as well just order enough for 100 ($5,800).
I know what you're thinking, all that sounds nice but what about missing out on the halftime show. No, you won't be able to get the BC marching band to perform at your party. That's true. However, according to Complex.com you could have rapper Trinidad Jame$ show up at your house and sing his 2012 hit song "All gold everything" for $12,500 and still have $2,300.02 to spend on car service so all your friends can get home safely.
It's understandable that you might be bummed because you weren't one of the lucky 5,000 people that got to spend $26,600 to fight traffic, sit outside on a cold fall afternoon and pay for overpriced, water-down beverages while watching a sub-.500 team battle a national championship contender, but you will just have to make due with staying home and sitting on your Italian leather sofa watching your giant TV pump game sounds out of your brand new home theater system while eating prime rib during Trinidad Jame$' halftime performance.
The struggle is real.