2016 Los Angeles Dodgers Preview & Fantasy Baseball Draft Prep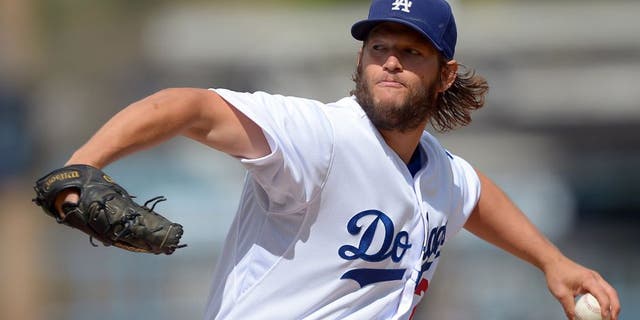 The Dodgers won the National League West by eight games, but lost their Division Series to the Mets. They'll contend again, thanks to a quality group of fantasy contributors led by all-galaxy southpaw Clayton Kershaw.
(Note: When a player's fantasy draft status is mentioned - e.g., "he's an SP4" - the number is based on 12-team mixed leagues. ADP references are from NFBC drafts.)
ALSO SEE: TEAM PREVIEWS ARCHIVE
Key additions: SP Scott Kazmir, SP Kenta Maeda
Key losses: SP Zack Greinke, SS Jimmy Rollins
Projected Lineup
1. Yasiel Puig RF
2. Howie Kendrick 2B
3. Adrian Gonzalez 1B
4. Andre Ethier LF
5. Corey Seager SS
6. Justin Turner 3B
7. Yasmani Grandal C
8. Joc Pederson CF
We've got Puig ranked as a low-end OF2, and he's being taken in the eighth round of drafts. Maybe he's a bad teammate, maybe he got fat, maybe he doesn't care, but his talent is worth a shot at that price ... Kendrick's strong BA is about all he brings to the table these days, and he's not a recommended option unless your league is deeper than 12 teams. He's worse if your league uses OBP instead of BA, since he doesn't walk much ... We have Gonzalez ranked ninth at his position, but Buster Posey counts as one of the first eight. If you don't get one of the big sluggers, A-Gonz is a fine fallback, though his BA has slipped over the past couple of years ... Ethier is still a solid hitter overall, but he's terrible vs. LHP (.635 career OPS), and could get a platoon partner such as Scott Van Slyke. We wouldn't draft him in 12-team mixed leagues ... Seager is one of baseball's best prospects, and was excellent (.987 OPS) in 27 games after his late-season callup. However, he's going as the third SS off the board in NFBC drafts, in the fifth round. We're very excited about Seager's future, but not quite as fired up about his present as everyone else seems to be ... Where did THAT come from, Justin Turner? Betting on a repeat won't cost you much, as his ADP of 265 makes him an endgame pick in 12-team leagues. We'd give him a try ... We've got Grandal as the No. 12 catcher, but Halpin has him at No. 5, with reasons explained in our recent article on breakout candidates ... Pederson's Jekyll & Hyde 2015 included a 20-homer first half and a six-homer second. He whiffs too much, but his walk rate is excellent, suggesting a smart approach. Pederson might hit 30 homers with 10 steals this season, but beware of a potentially bad BA. We've got him as a high-end OF4.
Projected Rotation
1. Clayton Kershaw
2. Scott Kazmir
3. Brett Anderson
4. Kenta Maeda
5. Hyun-Jin Ryu
CL: Kenley Jansen
Kershaw is cash money, the rare starter who can be considered in Round 1. Last season was his best, even though it seemed as if he couldn't get any better ... We like Kazmir as an SP4, but he appeared to have some batted ball luck (.273 BABIP in 2015, .299 career). Don't expect a 3.10 ERA again ... One of 2015's most amazing results was Anderson starting 31 games, finally answering the "What if he stays healthy?" question. We got a 3.69 ERA, a 1.33 WHIP, tons of ground balls and a putrid strikeout rate (116 K in 180 1/3 IP). Don't bother in 12-team mixed leagues ... Maeda is being drafted as an SP5, but understand that his stuff and bat-missing ability doesn't measure up to countrymen Yu Darvish and Masahiro Tanaka. Here's a FanGraphs writeup on what we might expect from Maeda ... Ryu is expected to be ready for Opening Day after missing the 2015 due to a torn labrum that required surgery. He posted a 3.17 ERA across 2014-15, and is being drafted at SP69. We'll pass at that price ... If Ryu isn't ready, Alex Wood is probably the next man up. Wood's velocity has dropped for two seasons in a row, which isn't a good sign for the 25-year-old lefty ... Jansen saved 36 games despite missing a month due to foot surgery, and another monster season should lie ahead. He's a top-four closer, in a group with Kimbrel, Chapman and Wade Davis.
Sleeper: Grandal, whose ADP is 191 (as of February 17). Check out his first half numbers from last season – they're excellent.
Top Prospects
Julio Urias, SP - Urias is baseball's best southpaw pitching prospect, and pitched very well at Double A last season at age 18. He's good enough to come quickly, but the Dodgers have no reason to rush him.
Jose De Leon, SP - The 23-year-old DeLeon is a strong talent in his own right, with sky-high strikeout rates for two consecutive seasons, and a ranking among the top 25 prospects by both Baseball America and MLB.com. De Leon's ceiling isn't as high as that of Urias, but he could be ready sooner.
Frankie Montas, SP - Hey, it's another pitching prospect! Montas isn't as polished as Urias or De Leon, but he hits triple digits on the radar gun. He might become a reliever down the road.
Cody Bellinger, 1B - Bellinger checks in as Baseball America's No. 54 prospect after slugging 30 homers in the California League. Bellinger is only 20, but keep him in mind for dynasty drafts.