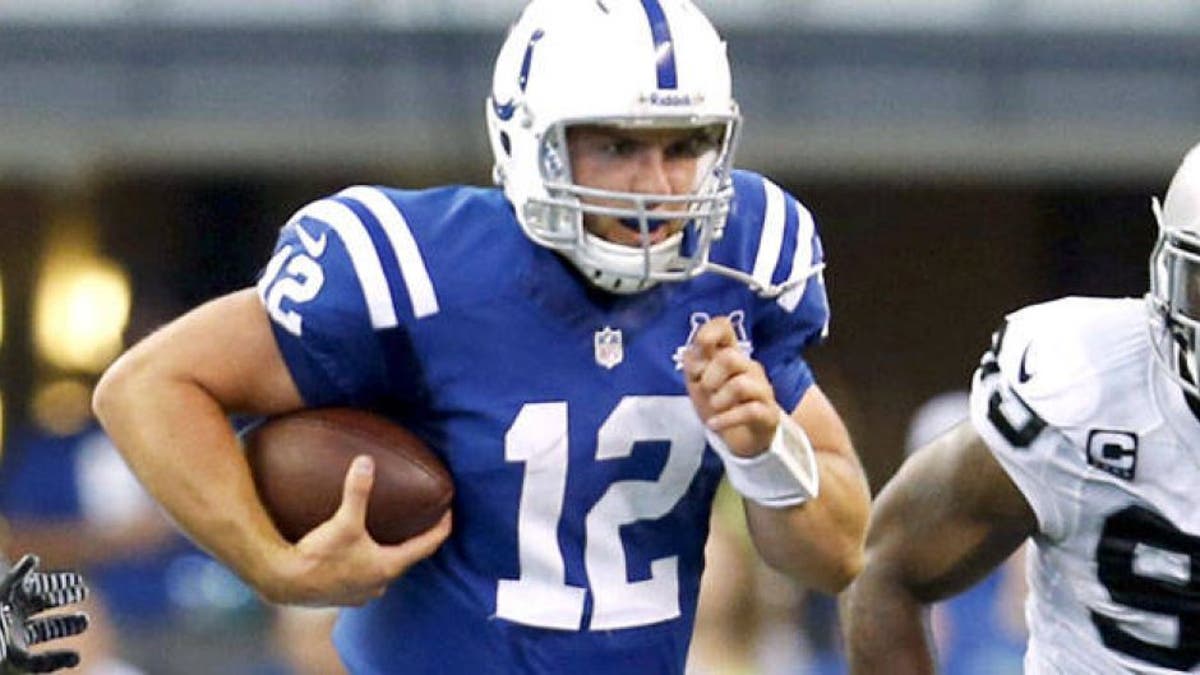 For your fantasy football draft prep and advice, continue to check on this page for updates regarding the Indianapolis Colts.
Team outlook:
The Colts were a fantasy football juggernaut in 2014. Andrew Luck dominated in the passing game and his receivers benefitted in the process. Even his running back scored a plethora of receiving TDs. Last year was just a glimpse of things to come as long as Chuck Pagano and Pep Hamilton are calling the shots.
Bye week: 10
Rookie impacts: Phillip Dorsett (WR)
He is a speedy wide receiver walking (or running) into a tough situation. Dorsett will likely sit fourth on the wide receiver depth chart going into Week 1. Last year's No. 4 receiver, Hakeem Nicks, had a decent season (38 receptions for 405 yards and four TDs), but those stats will be hard to attain for a rookie in an already thriving offense. That being said, Dorsett is only a couple injuries away from getting a chance to produce.
Quarterback: Andrew Luck
He may have finished third in passing yards last season, but Luck was first in TD passes (40). His 2014 campaign was a career-year for Luck. However, the Colts relied on his arm throughout the season while they continued to shuffle their running backs. An improved ground attack will take away from Luck's passing attempts, but it could also open up the defense for some big passing plays. Either way, I have Luck as one of the top two QBs in my rankings.
Running back: Frank Gore
Trent Richardson led the Colts in rushing last year with 519 yards. Gore is absolutely an upgrade. Even in his 2005 rookie season, Gore rushed for 608 yards. After that, eight of the next nine seasons ended with Gore tallying over 1,000 rushing yards in a season. Also, TRich only recorded 159 rushing attempts in 2014. Gore has notched at least 200 carries in nine consecutive seasons.
Running back: Dan Herron
Ahmad Bradshaw and Trent Richardson are out of the picture, but Herron still isn't the favorite in the backfield for 2015. However, Herron's production will come via the passing game. The leading RB in the air attack in the previous season, Bradshaw, tallied 300 receiving yards and six TDs on 38 catches. Gore hasn't caught more than 20 balls in three of the past four years.
Wide receiver: T.Y. Hilton
His 16.4 yards per catch stat was best among the fellow receivers in the top 12 last year. Hilton actually equaled his 2013 reception total (82 catches) but compiled almost 300 more yards. With Reggie Wayne out of the mix, it will be interesting to see how his 116 targets from 2014 will be dispersed for 2015. In my rankings, Hilton is hovering around the top 10 for fantasy wide receivers.
Wide receiver: Andre Johnson
I already mentioned that Reggie Wayne is out of the picture. Now, Johnson will look to revitalize his career with a fresh start in Indianapolis. Even with over 147 targets in each of the past three years, Johnson hasn't tallied more than five TDs since 2010. While I can't promise that those numbers will improve (Wayne scored twice last year), I do believe that Johnson and Hilton will terrorize defenses throughout the season.
Tight end: Coby Fleener
After the WR duo, Fleener followed with 92 targets and 51 receptions for 774 yards, only five yards shy of Reggie Wayne. Fleener was the best TE in Indy, but his luck could change if his position teammate is healthy.
Tight end: Dwayne Allen
It is highly rare for fantasy writers to focus on two TEs on a given roster, but it is extremely necessary for the Colts. Allen tied Fleener with a team-high eight TDs, despite tallying 379 fewer yards and 21 less catches. Allen also missed 18 games in the past two seasons. A full 2015 could propel Allen into a top 15 TE.
Placekicker: Adam Vinatieri
He is 42-years-old and still a fantasy football stud. Vinatieri made 96.8 percent of his field goal attempts last season. He is a top three kicker, if that is a thing.
Team defense (D/ST):
No team is perfect. If the offense is amazing, then the defense must be average (or even subpar). The Colts were tied for 21st with 12 interceptions last year. However, they were tied in second with 14 total fumble recoveries. Also, adding the Indy defense when they play the Jags twice in 2015 would probably be for the best (Titans, too).