2015 Fantasy Football Team Preview: Baltimore Ravens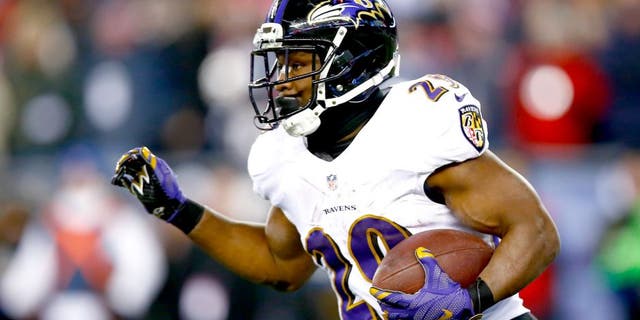 For your fantasy football draft prep and advice, continue to check on this page for updates regarding the Baltimore Ravens.
Team outlook:
Let's face it, other than the running back position, Baltimore hasn't been an exciting team as far as fantasy football is concerned. Sure, there are solid role players within the offense, but nothing that "wows" a fan. In my top 200 fantasy football rankings, only two Ravens make the cut. That could change during this season. Marc Trestman will get another chance in the NFL, this time as the offensive coordinator. That could translate to some serious points for this Ravens club.
Bye week: 9
Rookie impacts: Breshad Perriman (WR) and Maxx Williams (TE)
Perriman (6'2", 218 lb) is very similar to Alshon Jeffery (6'3", 216 lb). Under each of his two seasons with Marc Trestman, Jeffery caught at least 85 passes for over 1,100 yards and seven touchdowns.
As for Williams, he will compete with second-year TE Crockett Gillmore. Also, in Trestman's offense, Martellus Bennett caught 90 passes for 916 yards and six TDs last season.
Quarterback: Joe Flacco
Last season, Flacco's numbers were very comparable to Jay Cutler (Flacco had six fewer INTs and 19 less sacks). For my rankings, I dubbed Flacco as the 20th-best QB for 2015. I will admit that the rank is low, but I believe that Flacco can only go up from that spot. He has yet to crack the 4,000-yard club in his career and I want to make sure that Flacco's 27 TD passes last year wasn't a fluke.
Running back: Justin Forsett
There always seems to be at least one new name that sneaks into the first round of the fantasy football draft. In 2015, Forsett is that guy. Last season, he rushed for over 1,200 yards on 235 attempts and scored eight touchdowns. Forsett's 5.4 yards per carry was the best in relation to the top 15 rushers in the league. He is the 12th RB for me, and 16th choice overall.
Wide receiver: Steve Smith Sr.
The 36-year-old is still producing at a high level. Smith recorded over 1,000 receiving yards on 79 catches and reached pay dirt six times in 2014. I ranked him 47th on my list of WRs going into this season. His role with the offense should grow under Marc Trestman's system.
Wide receiver: Marlon Brown
This is where the news can get grim for fantasy football stock. In Chicago, the No. 3 receiver didn't get a lot of love. Marquess Wilson caught 17 passes for 140 yards and one TD. Brown caught 24 passes for 255 yards in 2014.
Tight end: Crockett Gillmore
It will be a battle between Gillmore and Maxx Williams for the starting TE spot. In his rookie season, Gillmore caught only 10 passes for 121 yards. On the bright side, the main TE last year, Owen Daniels, made 48 receptions for 527 yards and four TDs.
Placekicker: Justin Tucker
He was a perfect 25/25 on field goal kicks under 50 yards. He is rosterable in my book, which is the greatest compliment that I can give a kicker.
Team defense (D/ST):
Is there ever a year where the Ravens defense isn't impressive? Last year, Baltimore finished with 50 sacks (second-most). Other than Week 1 against Denver, I think Baltimore can be one of those defenses that you hang on to throughout the season.