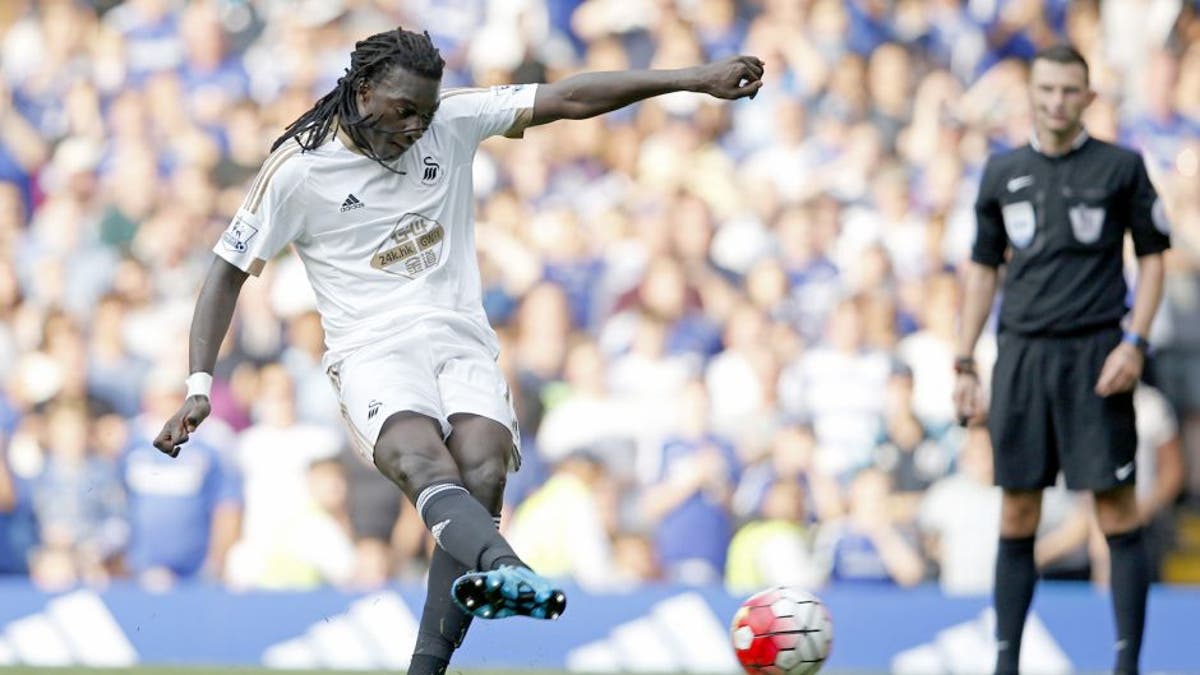 LONDON --
Defending Premier League champion Chelsea opened their title defense with a hard-fought 2-2 draw against Swansea City at Stamford Bridge on Saturday afternoon.

The good news for Chelsea fans is that it was better than last weekend. The bad news is that that isn't saying much, that it only drew, that its two first-half goals were both a little fortuitous, that it twice lost the lead, had its goalkeeper Thibaut Courtois sent off and that Swansea for long spells looked the brighter and snappier side in midfield.
What was perhaps most alarming for Chelsea wasn't the deficiencies in attack that had been evident in the Community Shield defeat to Arsenal -- it is, after all, a side that doesn't have to be playing fluently to score goals -- but the unexpected defensive laxity. The pace of Jefferson Montero exposed Branislav Ivanovic again and again on the Chelsea right. Andre Ayew, the only new signing to start the game, caused problems on the Chelsea left; while the central defensive pair of John Terry and Gary Cahill, such a bedrock last season provided opponents didn't get a run at them, looked oddly susceptible to simple balls into the space behind it.
Cesc Fabregas was again sluggish in midfield and although Diego Costa's hamstrings allowed him to play, he was quiet and frustrated, his most eye-catching contribution being four volleys of abuse aimed at the referee Michael Oliver after not being awarded free kicks for challenges that weren't fouls. But while Chelsea was far from its best, Swansea deserve credit, not just for having the better of the game but for its willingness to take the game to the champion.
Garry Monk's side was neat and purposeful, suggesting it is more than capable of building on last season's eighth-placed finish. Had Gomis been a little more decisive when laid through by Jonjo Shelvey after14 minutes, it might even have taken an early lead, but the French striker dallied after turning inside Gary Cahill and John Terry got back to make a fine challenge.
But 23 minutes in, the vague air of menace Chelsea had exuded crystallised into something more clear-cut as Oscar whipped in a free-kick from wide on the left. Gary Cahill went for it and so did Branislav Ivanovic but the ball eluded everybody and skipped by Lukasz Fabianksi.
The expectation was for Chelsea, as it has done so successfully so often before, to close the game down, but six minutes later Swansea was level. Montero's acceleration created room for a cross on the left. Gomis's header was superbly saved by Thibaut Courtois and, although Ayew's follow-up was blocked by Cahill, the Ghana midfielder reacted sharply to drag the ball back, away from Terry's lunge, and then slam the ball in.
Swansea was level for only a minute, though. Willian found space on the left side of the box and his cross looped off Federico Fernandez and over Fabianksi. At that point, again, the assumption was that Chelsea would be able to close the game down, but the second half began with a barrage of Swansea pressure that bore fruit seven minutes in.
Gomis, as he had in the first half, was able to make a run behind Chelsea's central defenders and again Shelvey found him. This time the French striker ran on and, as Courtois made a strangely ineffectual dart from his goal - perhaps hampered by the knee problem he had suffered in the warm-up -- he poked the ball by him Courtois's studs caught Gomis just above the knee and, for all Terry's protests contact had taken place outside the box, the penalty and red card were obvious. Gomis converted and Swansea was level. Courtois, meanwhile, will miss next week's game against Manchester City through suspension.
Swansea had chances to win it. Twice Montero was denied by Asmir Begovic, who came on for Oscar and took over in goal after Courtois's dismissal, then Wayne Routledge, a replacement for Montero, ran on to another Shelvey through-ball only for his lack of a left foot to lead him to shoot tamely at the keeper.
Chelsea kept Costa and Hazard high up the pitch to try to discourage Swansea committing to a massed assault and, after Willian had led a break, Fabianski ended up keeping out with his face. But a winner would have been undeserved. Swansea was excellent and well worth its point, while for Chelsea, the search for something approaching the rhythm of last season goes on.
"We played very well until we fell to 10 men," Chelsea manager Jose Mourinho admitted after the match. "The first half was high quality, my men fought hard."