World's oldest figurative tattoos found on 5,000-year-old Egyptian mummies
Experts in the U.K. have found the world's oldest figurative tattoos on two ancient Egyptian mummies, one of which is the oldest tattooed female ever discovered.
The mummies, which date back to between 3351 B.C. and 3017 B.C., are in the collection of the British Museum in London. Researchers used infrared imaging to study the remains, known as the Gebelein mummies.
The male mummy, who was discovered about 100 years ago, has a wild bull and a Barbary Sheep tattooed on his upper arm, according to experts. S-shaped and linear motifs were identified on the upper arm and shoulder of the female mummy.
ANCIENT EGYPTIAN CEMETERY FOUND WITH 40 MUMMIES AND A MESSAGE 'FROM THE AFTERLIFE'
The researchers' findings were published in the Journal of Archaeological Science.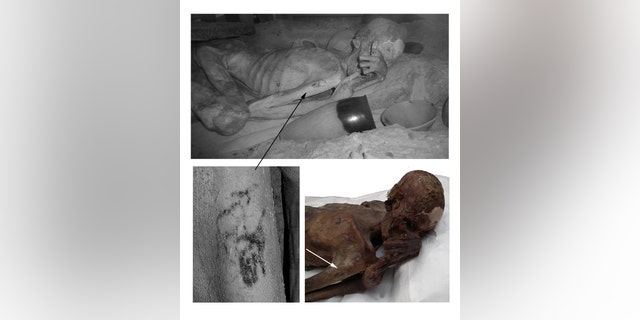 "Incredibly, at over five thousand years of age, they push back the evidence for tattooing in Africa by a millennium," explained Daniel Antoine, one of the lead authors of the research paper and the British Museum's curator of physical anthropology, in a statement.
Experts say that the wild bull and Barbary Sheep are well known in ancient Egyptian art. "The designs are not superficial and have been applied to the dermis layer of the skin, the pigment was carbon-based, possibly some kind of soot," explained the British Museum, in its statement. "He may have worn the tattoos as symbols of power or strength."
ANCIENT STATUE OF NUBIAN KING FOUND IN NILE RIVER TEMPLE
Previously archaeologists had thought that tattooing in ancient Egypt only applied to women.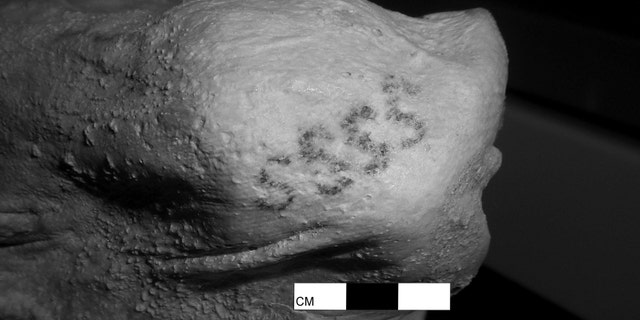 The male mummy was between 18 and 21 years of age when he died from a stab wound to his back.
The linear motifs on the female mummy bear similarities to objects held by figures on ancient Egyptian ceramics. "It may represent a crooked stave, a symbol of power and status, or a throw-stick or batons and/or clappers used in ritual dance," explained the British Museum.
SECRET TO GREAT PYRAMID'S NEAR PERFECT ALIGNMENT POSSIBLY FOUND
The S-motif is also found on ceramics in ancient Egypt. "Both sets of tattoos would have been highly visible and may have denoted status, bravery, cult/magical knowledge or protection," said the British Museum.
Scientists studied seven mummies discovered at the ancient Nile town Gebelein, although tattoos were only found on two.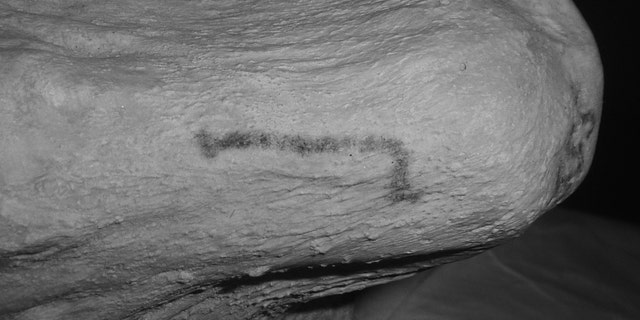 The two inked Gebelein mummies, however are not the earliest evidence of tattoos. The oldest tattoos were found on the body of Ötzi the Iceman, an approximately 5,300-year-old Neolithic mummy discovered in Italy in the Italian Alps in 1991. However, Ötzi's extensive tattoos were more geometric in design, according to National Geographic, consisting of lines and crosses.
Follow James Rogers on Twitter @jamesjrogers