Wild conspiracy theory claims that Apollo moon landing was 'faked,' touts new 'photo' evidence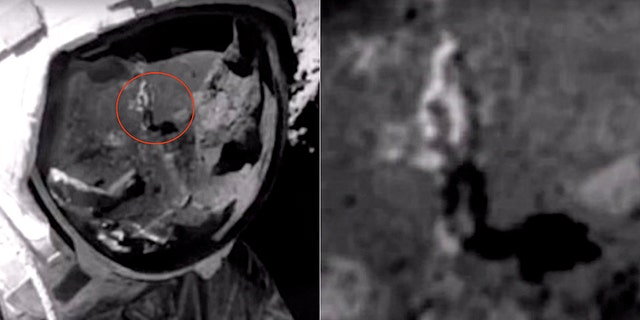 Despite insurmountable evidence to the contrary, conspiracy theorists have claimed for years that man did not walk on the moon, that the landings were fake. That theory has surfaced again, thanks to a new "picture" posted to YouTube that alleges the last moon landing, one from Apollo 17, was staged.
The video, which shows a picture that was allegedly taken in December 1972, is named "Reflection in a Visor." The person who posted it, using the user name Streetcap1, claims that there is a reflection of a stagehand on the helmet of one of the astronauts.
At 21 seconds into the video, Streetcap1 points out what this person believes is someone not wearing a spacesuit. "I thought it looked a bit strange, so I took a picture of it using my software," Streetcap 1 said in the video.
CAVE DISCOVERED ON THE MOON RAISES HOPE FOR HUMAN COLONIZATION
He added that it appears to be "a figure of a human not wearing a spacesuit, circa early 70s... Apollo 17 photograph."
Streetcap1 goes on to say that he believes the object in the astronaut's helmet looks like a man with long hair.
"You can see some sort of, it looks like a man, back in the early 70s, long hair, wearing some sort of waistcoat-type thing... and a shadow of that figure presumably."
Comments appear split on the video, with many saying the object being pointed out is indeed an astronaut wearing a spacesuit. Others, however, seemed to side with Streetcap1, with one commenter writing: "Omg goodness. Congratulations Street cap1. Making world news. Amazing find xx"
Apollo 17 was the final mission of NASA's Apollo program and was launched at 12:33 a.m. ET on Dec. 7, 1972 with Commander Eugene Cernan, Command Module Pilot Ronald Evans and Lunar Module Pilot Harrison Schmitt on board.
They spent two weeks in space, returning to Earth on Dec. 19, 1972.
Apollo 17 is notable for a number of reasons, including being the last time mankind has ever gone past Earth's low-orbit. It is the first mission without a test pilot, it holds the record for longest moon landing, longest total moonwalks, largest lunar sample and the longest time spent in lunar orbit.
Conspiracy theories have continued to pop up since man first walked on the moon on July 20, 1969, when Neil Armstrong and Buzz Aldrin became the first men to ever set foot on the lunar surface.
This story has been updated to reflect that Apollo 17 was the last space mission where mankind has left Earth's low-orbit. It originally said it was the first time. Fox News regrets this error.