Wild Bear Gives Birth on Webcam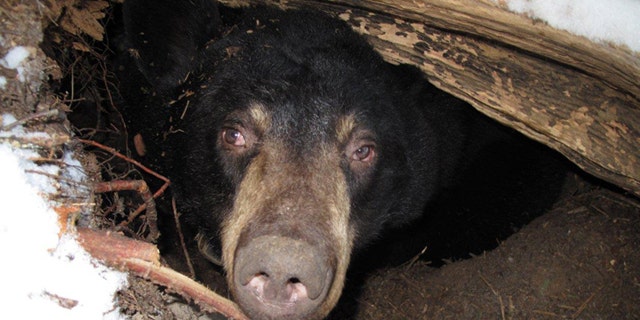 NEWYou can now listen to Fox News articles!
A bear who became an Internet sensation after a Webcam was installed in her den gave birth live on the Internet, The Sun reported Monday.
Pregnant Lily the black bear became a Web celebrity after her den cam was installed on January 8 so researchers and fans could monitor her hibernation.
In two weeks, she amassed more than 60,000 fans on Facebook and thousands more were logging on to watch her sleeping in her United States winter home in Ely, Minnesota.
On Friday she delivered a healthy cub on camera, the first time a bear giving birth has ever been recorded live in the wild.
The footage will feature in a new wildlife series about bearwalkers -- biologists who do hands-on research with bears in the wild.
Dr Lynn Rogers, who is known as the "Bearwalker of the Northwoods," has known Lily since she was born in January 2007, and heads the den cam project for the North American Bear Center.
Dr Rogers, who monitored every moment of Lily's 21-hour labor with colleague Sue Mansfield, said: "We were seeing stuff we've never seen before. It was like she was having some contractions that were out of control."
"We're were on edge because we want to see everything, and I mean every bout of labor and time it, and how long between labor sessions.
"This is an opportunity I've not had in my 43 years of research."
Scientists say the biology of the black bear is still relatively unknown because it is a wandering forest animal that rarely allows itself to be followed.
It has previously been impossible to have a camera peering into a den because the bears will abandon their lodgings if they are disturbed.
Lily, who weighs 200 lbs, went into labor on Thursday evening and began slamming her body around her den, shaking the Web camera as tens of thousands watched online.
Her healthy cub, who has not yet been named, has been heard crying to Lily while she coos to calm it down.
Dr Rogers said: "Lily gained more than 50,000 Facebook fans in less than two weeks.
"I think people have an interest in nature. The whole world can see how bears live now."