Wasps bred as biological warfare agents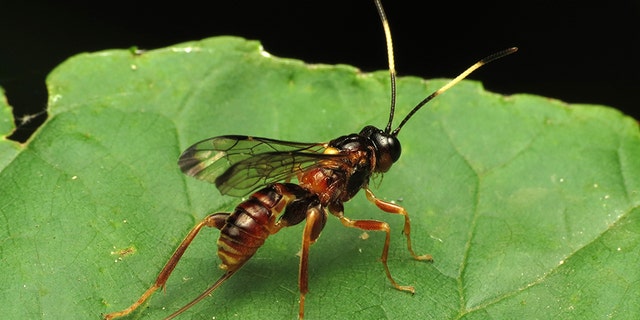 NEWYou can now listen to Fox News articles!
There is a killer bug buzzing around Australia which scientists are breeding as a biological warfare agent.
The parasitic wasp is such a sought-after insect, researchers from South Africa even came here to collect some to take back to unleash in their country.
Scientists are breeding armies of the wasp around the world in an effort to contain or eradicate another tiny species destroying native trees.
The gall wasp causes a tumour-like disease on eucalyptus trees — and the parasitic wasp is one of their predators.
In Australia our gall wasps are "under control from their natural enemies" so scientists here have ramped up efforts helping other countries.
Because of our aid agreements with Asia, the Australian Centre for International Agricultural Research (ACIAR) has funded a project with the University of the Sunshine Coast and the Queensland Department of Agriculture and Fisheries to cultivate an army in Laos.
Researchers have taken a shipment to a lab facility they built in the country and have trained scientists there to breed the wasps before they can get approval to release them into the wild.
The wasps have to undergo strict quarantine tests and make it through the breeding process, and two colonies have died so far.
Dr. Simon Lawson, associate professor in forestry at Sunshine Coast University, hopes because the latest shipment is much bigger it will be successful.
If all the boxes are ticked they hope to be releasing wasps into the wild around July or August.
Unlike the introduced cane toad species of the 1930s, scientists now have to carry out a barrage of tests to make sure the animal will be sustainable in its new ecosystem so situations like that don't happen again.
"The invasion of the gall wasp is having a serious impact on the Mekong region, which is why ACIAR is determined to implement a solution that will create social, economic and environmental benefits for the affected countries," Dr Lawson said.
"We know that chemical control using pesticides is of limited effectiveness, costly and potentially dangerous to the environment and human health.
"Biological control is one of the best ways forward to stop further damage by gall wasps to eucalypts.
"This Australian research will support South-East Asia's forestry sector and employment opportunities.
"The region now has increased capability to more effectively and rapidly recognize and respond to future pest threats."
This story originally appeared in news.com.au.