Volcano Experts Fear Major Eruption Soon in Philippines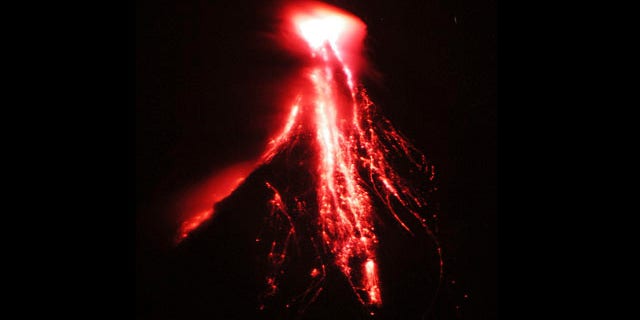 NEWYou can now listen to Fox News articles!
MANILA — The Philippines' most active volcano spewed ash as high as 500 meters and burning rocks and mud a kilometer down its slopes on Wednesday and vulcanologists expect a major hazardous eruption soon.
More than 20,00 people have been evacuated from around Mayon's danger zones, Defense Secretary Norberto Gonzales told reporters after meetings with local officials in Albay province. Vulcanologists recorded at least five minor explosions on Wednesday from Mayon volcano, famed for its near-perfect cone shape in a coconut-growing region of the central Philippines.
It spewed burning mud and rocks for a third day.
SLIDESHOW: Mayon Volcano Spews Ash, Lava
Nearly 80 high frequency quakes were recorded around the volcano in the last 24 hours. Officials raised Mayon's alert to level 3 on Monday, meaning sudden hazardous explosions were likely.
"We're keeping the alert level but we're observing increased activity in the volcano," Renato Solidum, head of the Philippine Institute for Volcanolgy and Seismology (Phivolcs), told Reuters after an aerial inspection around Mayon.
Solidum said lava had rolled down about 1 km from the summit while burning rocks have started detaching from the crater summit, generating ashfalls in two towns near Mayon's slope. Solidum advised people in three cities and five towns near the base of the volcano to cover their noses and mouth with masks or wet cloths to prevent inhaling ash from the volcano.
"The danger is when residents inhale the fine ash and this weakens their lungs, especially those with lung ailments," he later told a television network.
Gonzales, who also heads the government's disaster agency, said about 50,000 masks would be distributed to residents and food and water stations were being set up for displaced families.
The Philippines lies on the "Ring of Fire," a belt of volcanoes circling the Pacific Ocean that is also prone to earthquakes.
Mayon is the most active of 22 volcanoes in the country, having erupted more than 50 times in the last four centuries. The most destructive eruption came in February 1841 when lava flows buried a town and killed 1,200 people.
The last time Mayon erupted was in 2006.