Tomb discovery: Headless crocodiles shock experts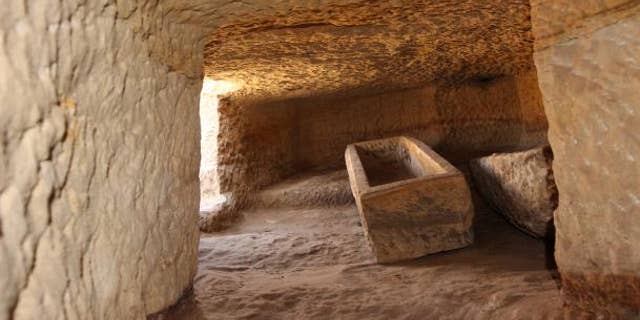 NEWYou can now listen to Fox News articles!
A Swedish archaeological team working in Egypt has reported the discovery of 12 new tombs, and their finds include a plethora of human remains, numerous sheep or goats with puncture marks in the skulls, a cat, and even two headless crocodiles.
Located at an ancient sandstone quarry site on the banks of the Nile called Gebel el Silsila, their excavation has been in progress for years and the total tomb count is now over 45; they've had to contend with a rising water table as well as feet of silt from the Nile covering the tombs.
John Ward, assistant director of the Gebel el Silsila Project, told FoxNews.com from Egypt that most of the ancient bodies they were finding likely belonged to the quarry workers of antiquity, and that those who had been injured seem to have received medical care. Bodies appear to have been wrapped in a type of linen. The sheep or goats (it's hard to differentiate between their skeletons, Ward said) may have been sacrificed, and as for the crocodiles, it's unclear if they had been put there on purpose or had simply washed there.
BONES UNEARTHED NEAR ANCIENT CITY OF TROY YIELD CLUES OF DEADLY INFECTION
The cat even had its own little crypt, Ward explained.
They've also found "beads in abundance," Ward said. Other finds include amulets, necklaces, and ceramics.
The newly-discovered tombs and crypts are about 3,400 years old at a site on the Nile between the cities of Luxor and Aswan in Egypt.
"It's phenomenal," Ward said, of their newest discoveries. "It's every archaeologist's dream, especially in Egypt, to be the first to discover a tomb."
MYSTERIOUS TINY MUMMY STUNS EXPERTS
One two-chambered tomb, for example, called ST 30, contained two sandstone sarcophagi as well as the remains of more than 15 people.
In addition to Ward, the project is led by Maria Nilsson of Sweden's Lund University.
Follow Rob Verger on Twitter: @robverger