Stunning sunfish discovery: Researchers find new species
The elusive new species, named the Hoodwinker Sunfish, was found by a team of experts from Australia's Murdoch University.
The giant fish, which had eluded discovery for centuries, was uncovered by Marianne Nyegaard, a doctoral student at Murdoch University's School of Veterinary and Life Sciences.
Nyegaard spent four years searching for the fish, which like other sunfish species, can weigh more than two tons and grow to more than 9.8 feet in length. The quest began after she noticed genetic differences in sunfish samples from the Australian and New Zealand longline fishery.
GREAT WHITE SHARK LURKS OFF CALIFORNIA BEACH IN STUNNING DRONE VIDEO
"A Japanese research group first found genetic evidence of an unknown sunfish species in Australian waters 10 years ago, but the fish kept eluding the scientific community because we didn't know what it looked like," she said, in a statement. "Finding these fish and storing specimens for studies is a logistical nightmare due to their elusive nature and enormous size, so sunfish research is difficult at the best of times."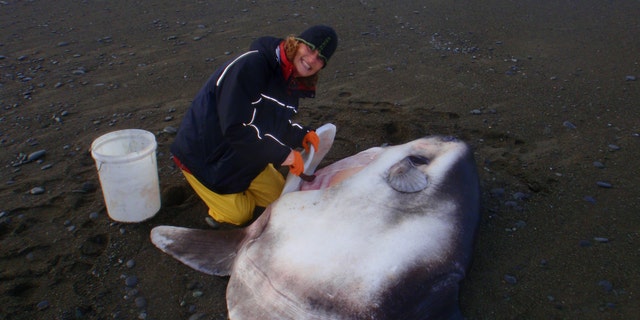 Early in her research, Nyegaard was even asked if she would be bringing her own crane to receive a sunfish specimen.  "I knew I was in for a challenging – but awesome – adventure," she said.
The researcher collected data from 27 samples of the new species over a three-year period, sometimes travelling thousands of miles.
CECIL THE LION'S SON KILLED BY HUNTER IN ZIMBABWE
Apparently preferring cold water, the new species has been found around New Zealand, along the south-east coast of Australia, off South Africa and Southern Chile.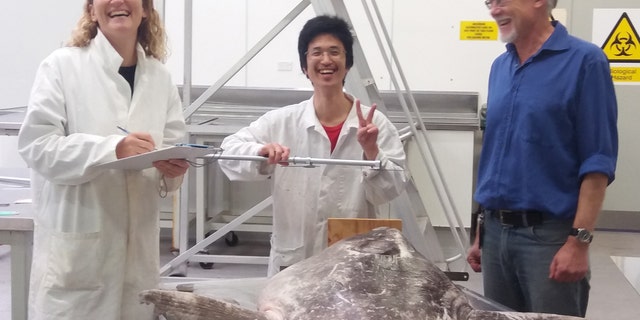 "The new species managed to evade discovery for nearly three centuries by 'hiding' in a messy history of sunfish taxonomy, partially because they are so difficult to preserve and study, even for natural history museums," Nyegaard said. "That is why we named it Mola tecta (the Hoodwinker Sunfish), derived from the Latin tectus, meaning disguised or hidden."
To confirm the first addition to the Mola genus in 130 years, experts had to consult publications dating back to the 1500s during their research. Some of the texts even included descriptions of mermen and "fantastical sea monsters," according to Nyegaard.
PANGOLIN FACES EXTINCTION BUT 5-YEAR-OLD RAISES AWARENESS FOR ENDANGERED MAMMAL
The researcher's paper on the new species has been published in the Zoological Journal of the Linnean Society.
Like its two sister species, Mola mola and Mola ramsayi, Mola tecta also has the appearance of half a fish, although it lacks the lumps, bumps and protruding snout found on Mola mola and Mola ramsayi, according to Murdoch University.
In addition to Murdoch University, the Museum of New Zealand Te Papa Tongarewa, the University of Otago, Hiroshima University and the University of Tokyo participated in the research.