Stunning NASA image reveals Jupiter's beauty in ultraviolet and infrared light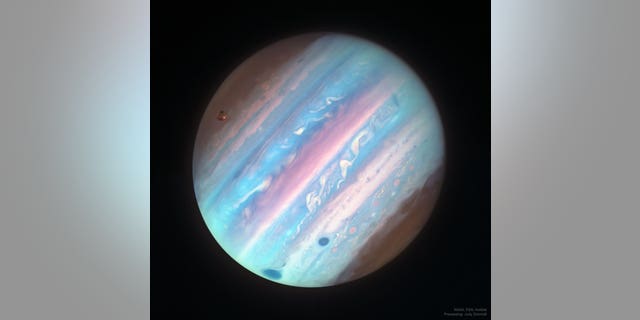 Jupiter has gotten a makeover in a stunning image released by NASA.
The picture, captured in 2017 by the Hubble Space Telescope, shows the impact of ultraviolet light on the famous planet — and gives the largest celestial body in the solar system a different, beautiful look.
Its poles, along with the Great Red Spot, appear darker in the image.
The String of Pearl storms, massive counterclockwise disturbances that have been observed for many years, are bright and appear to be (false-color) pink, according to NASA.
NASA EYES STUNNING 'CLOUD AIRSHIP' CONCEPT TO EXPLORE VENUS
Jupiter's largest moon, Ganymede, can be seen on the upper left of the image.
The space agency unveiled another amazing image of Jupiter in June that evokes Vincent van Gogh's "The Starry Night."
NASA's robotic spacecraft Juno continues to orbit Jupiter in 53-day trips since July 4, 2016.