Stakes Are High for New Falcon 9 Rocket's First Test Flight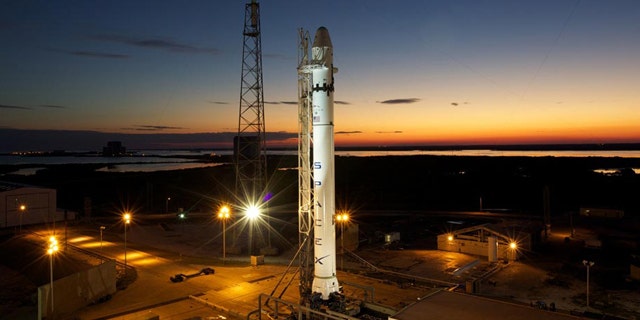 NEWYou can now listen to Fox News articles!
Today's planned inaugural flight of the new private Falcon 9 rocket built by the entrepreneurial firm SpaceX is a high-stakes endeavor.
A successful liftoff of the private two-stage booster, planned for today at 11 a.m. EDT (1500 GMT) from Florida's Cape Canaveral Air Force Station, would put oomph into President Barack Obama's plan to overhaul NASA by using commercial firms to send crew and cargo to the International Space Station.
But a Falcon 9 failure could be construed by some as a cautionary flag, calling to question the readiness of entrepreneurial "NewSpace" muscle to energize a commercial spaceflight industry.
The rocket's makers stress that this test flight should not come with too-high expectations.
"100 percent success would be reaching orbit," SpaceX founder and CEO Elon Musk told reporters during a Thursday teleconference. "Given that this is a test flight, whatever percentage of getting to orbit we achieve would still be considered a good day. If just the first stage functions correctly, it's a good day. It's a great day if both stages function."
For promoters, the Falcon 9's maiden takeoff test signals a sea change. Yet there are those who suggest wearing life preservers.
Political support for Obama administration's push to rely on commercial space companies could be strongly affected by the success or failure of the Falcon 9 test, said Roger Handberg, a political scientist at the University of Central Florida who has written extensively on space policy.
"For Obama, there's a lot riding on it, as far as his credibility, because that's his big option," Handberg said. Obama visited SpaceX's Cape Canaveral launch site and toured the Falcon 9 rocket pad in April.
In fact, some say there's too much pressure for SpaceX to perform during this maiden launch.
"Certainly the future of the company and the future of the industry doesn't ride on this test," said Brett Alexander, president of the Commercial Spaceflight Federation, a private industry group. "Some people are making it out to be that big, but it's not."
All in all, it's a touch of faith-based rocketry.
Space newbies
"We've waited long enough. The field now of NewSpace is broad enough that it would be foolish to hang everything on one launch," said Rick Tumlinson, co-Founder of the Space Frontier Foundation and a long-time space activist.
"We're newbies in a sense. We're going to have failures. Stuff is going to blow up," Tumlinson said. "Anybody on the NASA side who tries to pin it on us is being disingenuous...because all we have to do is roll their old tapes," he told SPACE.com.
Tumlinson portrays the coming of age of NewSpace as akin to barnstorming in early aviation. He stressed the need for the public to understand that this isn't rich boys and their toys – there are bigger things at stake.
"Whether one vehicle blows up or not...at least the SpaceX rocket is a real vehicle as opposed to a fake like the NASA's Ares [launch] was," Tumlinson said.
SpaceX has a $1.6 billion contract with NASA to deliver 20 tons of cargo to the International Space Station over 12 Dragon flights through 2016.
The company plans to offer Falcon 9 rocket flights at prices ranging between $45 million and $52 million. This SPACE.com graphic shows how the Falcon 9 rocket compares with NASA's shuttles and other spacecraft.
To date, the Hawthorne, Calif.-based company has invested about $400 million in its Falcon rockets (including the smaller Falcon 1) and the Dragon spacecraft, Musk said.

Lessons to be learned
Falcon 9 working correctly right out of the box is not likely, observes Tim Pickens, a commercial space advisor for the Huntsville, Ala.-based Dynetics and also the senior propulsion engineer for the company.
"I don't think a first-launch failure is the end of the world," Pickens said. "This is the launch business...and I'm rooting for these talented guys."
Pickens said that what SpaceX has on his side is history – a history of booster development over the decades that provide many lessons learned. Still, given the complexity of the Falcon 9, he said, there's likely to be more lessons to be learned lurking within the booster.
"The key thing is that there's enough instrumentation onboard. If something does happen, they can correctly fix it," Pickens added. "The biggest fear is not having the data to support whatever failure mode you did have... which could mean you end up in a pretty lengthy investigation."
With a vehicle the size of Falcon 9, particularly its nine main engines, "there are a lot of dynamic things happening. Of course the staging event is always the big one," Pickens noted.
Musk has said the first Falcon 9 rocket has about a 70 or 80 percent chance of success for its debut, but SpaceX can survive if it fails. A second Falcon 9 rocket is already being prepared for a follow-up test later this summer.
"They're smart people so they have a business plan that doesn't assume a 100 percent success," said John Logsdon, a space policy expert and professor emeritus of Political Science and International Affairs at the Space Policy Institute at George Washington University in Washington, D.C., on Thursday. "So if tomorrow is not a total success, they will move on."
Faster and cheaper
Should the hopes of the entire industry and political survivability of President Obama's plan for NASA ride on one rocket flight?
"No... it's a test program," responded Michael Mealling, vice president of business development for Masten Space Systems in Mojave, Calif. The few flight anomalies that cropped up in NASA's Ares I-X flight in October of last year, Mealling said, didn't prove that Ares I is not a viable rocket. It was a learning experience, he said.
"If it goes right the first time, you actually didn't learn anything," Mealling told SPACE.com.
Regardless of what happens with the first flight of Falcon 9, SpaceX spent a tenth of the money doled out by NASA on its Ares booster, Mealling said. "Yes, I know that it's an apples-and-oranges comparison, but apples and oranges do generally cost the same amount at the grocery store."
"If Falcon 9 leaves the tower under its own propulsion, does even 75 percent of its goals, I think it will make a point that commercial companies can move faster...they can move cheaper...and that will start to make a point," Mealling advised.
Mealling said that there are people looking for a "Netscape Moment" in the commercial space industry, the equivalent of the first Internet investment boom for private spaceflight.
"Rocket engineering doesn't work that way. There's a lot of incremental stuff. You prove things out," he concluded.
Bigger picture
In terms of the bigger picture of upstart NewSpace ventures and the commercial space business, the future is indeed exciting - but also terrifying, insiders say.
That's the view of Jeff Greason, President of XCOR Aerospace in Mojave, Calif. "I'm not sure we're ready to do all the things that the U.S. government is now depending upon this industry to be able to do. That's just too bad, because we're going to have to do it anyway."
In remarks at the Space Access Society's Space Access '10 conference held in early April in Phoenix, Greason bluntly advised a room full of space entrepreneurs: "It is time to grow up."
Greason was a member of the recent White House-requested Review of U.S. Human Spaceflight Plans Committee. That review spotlighted the fact that there is now a burgeoning commercial space industry.
"If we craft a space architecture to provide opportunities to this industry, there is the potential – not without risk – that the costs to the government would be reduced," the report advised. "Commercial services to deliver crew to low-Earth orbit are within reach. While this presents some risk, it could provide an earlier capability at lower initial and life-cycle costs than government could achieve. A new competition with adequate incentives to perform this service should be open to all U.S. aerospace companies."
Speaking at the Space Access Society gathering, Greason made clear his vision of the United States having a successful commercial space industry and space transportation industry. That enterprise, he said, would move people and payloads to and from destinations in space with economics that make sense...with a level of safety and reliability that is associated with transportation and not ammunition.
"It's a hard road... it's a long road. But we're getting there. The size of the opportunity that we're faced with is terrifying... and wonderful," Greason said.
Copyright © 2010 Space.com. All Rights Reserved. This material may not be published, broadcast, rewritten or redistributed.