Sprawling galaxy cluster discovered 'hiding in plain sight'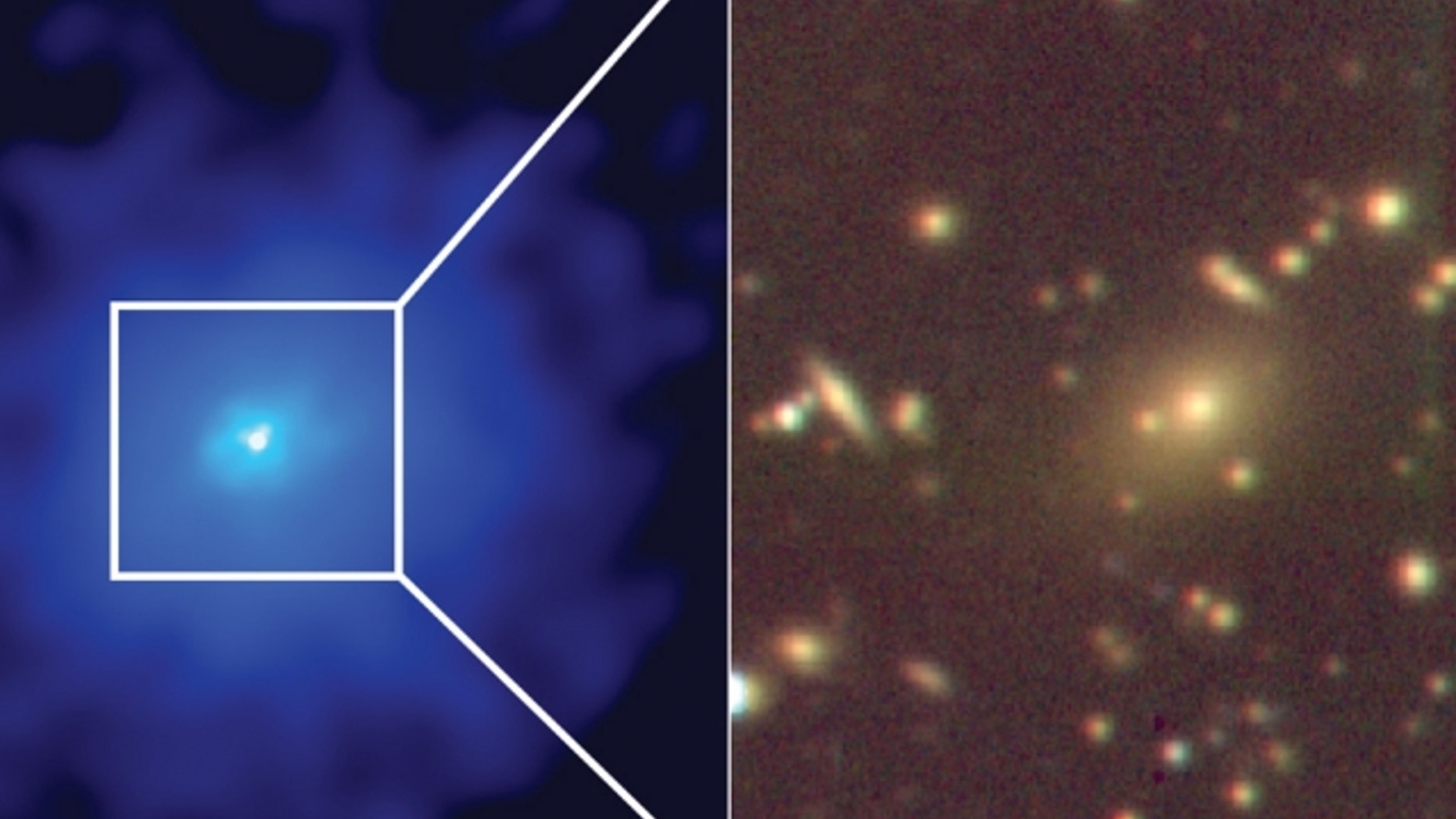 Scientists at MIT have discovered a galaxy cluster that they say is "hiding in plain sight."
Located just 2.4 billion light-years from Earth, the cluster consists of hundreds of individual galaxies, scientists said in a statement. The galaxies surround a quasar, or highly active supermassive black hole.
A light-year, which measures distance in space, equals 6 trillion miles.
SUPERMASSIVE BLACK HOLE FOUND IN TINY GALAXY, WOWING RESEARCHERS
The central quasar, known as PKS1353-341, is intensely bright, so bright, indeed, that it has long obscured the galaxies around it. The research is published in the Astrophysical Journal.
The quasar is said to be 46 billion times brighter than the Sun, likely the result of a "feeding frenzy." The black hole is consuming material near it and radiating vast amounts of energy, scientists said.
"This might be a short-lived phase that clusters go through, where the central black hole has a quick meal, gets bright, and then fades away again," said study author Michael McDonald, assistant professor of physics in MIT's Kavli Institute for Astrophysics and Space Research, in the statement. "This could be a blip that we just happened to see. In a million years, this might look like a diffuse fuzzball."
PLANETS IN GALAXIES BEYOND MILKY WAY SPOTTED FOR FIRST TIME
Scientists are now looking for more clusters of hidden galaxies. The clusters could offer important clues to help researchers estimate how much matter there is in the universe and how fast the universe is expanding.
Experts from Princeton University, the Large Synoptic Survey Telescope in Chile and the Harvard-Smithsonian Center for Astrophysics also participated in the study.
Earlier this year, in a separate project scientists announced the discovery of planets in galaxies beyond the Milky Way.
NASA'S PARKER SOLAR PROBE BLASTS OFF ON EPIC JOURNEY TO 'TOUCH THE SUN'
Using data from NASA's Chandra X-ray observatory, a team of astrophysicists from the University of Oklahoma identified the extragalactic planets about 3.8 billion light years away. The space observatory helped scientists find about 2,000 objects with comparable mass to the Moon and Jupiter.
Follow James Rogers on Twitter @jamesjrogers