Spanish cave paintings shown as oldest in world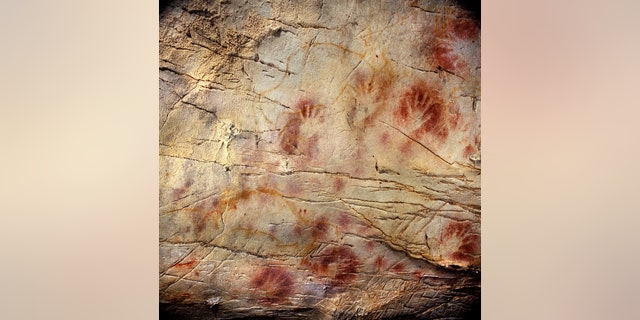 NEWYou can now listen to Fox News articles!
WASHINGTON – New tests show that crude Spanish cave paintings of a red sphere and handprints are the oldest in the world, so ancient they may not have been by modern man.
Some scientists say they might have even been made by the much-maligned Neanderthals, but others disagree.
Testing the coating of paintings in 11 Spanish caves, researchers found that one is at least 40,800 years old, which is at least 15,000 years older than previously thought. That makes them older than the more famous French cave paintings by thousands of years.
Scientists dated the Spanish cave paintings by measuring the decay of uranium atoms, instead of traditional carbon-dating, according to a report released Thursday by the journal Science. The paintings were first discovered in the 1870s.
The oldest of the paintings is a red sphere from a cave called El Castillo. About 25 outlined handprints in another cave are at least 37,300 years old. Slightly younger paintings include horses.
Cave paintings are "one of the most exquisite examples of human symbolic behavior," said study co-author Joao Zilhao, an anthropologist at the University of Barcelona. "And that, that's what makes us human."
There is older sculpture and other portable art. Before the latest test, the oldest known cave paintings were those France's Chauvet cave, considered between 32,000 and 37,000 years old.
What makes the dating of the Spanish cave paintings important is that it's around the time when modern humans first came into Europe from Africa.
Study authors say they could have been from modern man decorating their new digs or they could have been the working of the long-time former tenant of Europe: the Neanderthal. Scientists said Neanderthals were in Europe from about 250,000 years ago until about 35,000 years ago. Modern humans arrived in Europe about 41,000 to 45,000 years ago - with some claims they moved in even earlier - and replaced Neanderthals.
"There is a strong chance that these results imply Neanderthal authorship," Zilhao said. "But I will not say we have proven it because we haven't."
In a telephone press conference, Zilhao said Neanderthals recently have gotten "bad press" over their abilities. They decorated their tools and bodies. So, he said, they could have painted caves.
But there's a debate in the scientific community about Neanderthals. Other anthropologists say Zilhao is in a minority of researchers who believe in more complex abilities of Neanderthals.
Eric Delson, a paleoanthropologist at the American Museum of Natural History in New York, and John Shea at Long Island's Stony Brook University said the dating work in the Science paper is compelling and important, but they didn't quite buy the theory that Neanderthals could have been the artists.
"There is no clear evidence of paintings associated with Neanderthal tools or fossils, so any such evidence would be surprising," Delson said. He said around 41,000 years ago Neanderthals were already moving south in Europe, away from modern man and these caves.
Shea said it is more likely that modern humans were making such paintings in Africa even earlier, but the works didn't survive because of the different geology on the continent.
"The people who came in to Europe were very much like us. They used art, they used symbols," Shea said. "They were not like Fred Flintstone and Barney Rubble."