SpaceX Aborts Rocket Engine Test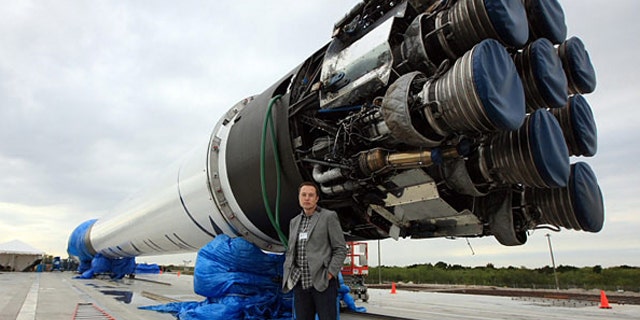 NEWYou can now listen to Fox News articles!
Space Exploration Technologies aborted a test firing of its Falcon 9 rocket on Tuesday, in what was to be a key milestone in its quest to fly cargo -- and eventually astronauts -- to the International Space Station.
The test was aborted two seconds before engine ignition at the privately owned company's Cape Canaveral, Florida, launch site, where the Falcon 9 rocket is being prepared for a company-sponsored demonstration flight this spring.
During the test, flames and small puffs of smoke could be seen around the base of the rocket via a NASA video camera.
In a statement Tuesday night, Space Exploration Technologies, or SpaceX, said the flames were from the burn-off of liquid oxygen and kerosene and that the Falcon's engines didn't ignite.
"Given that this was our first abort event on this pad, we decided to scrub for the day to get a good look at the rocket before trying again. Everything looks great at first glance," spokeswoman Emily Shanklin said in an e-mail to Reuters.
The rocket is perched on a refurbished oceanside launch pad at Cape Canaveral Air Force Station, just south of the space shuttle launch pads at the Kennedy Space Center. The motor firing was expected to be rescheduled for later this week.
California-based SpaceX is owned and operated by Internet entrepreneur Elon Musk. It is building launch vehicles and spacecraft to take over the job of delivering cargo to the space station, which has up to now been government-run.
It holds NASA contracts for 15 Falcon 9 flights -- three test flights and 12 cargo resupply missions to the space station -- worth about $1.9 billion.
Options for additional flights would boost the cargo-delivery contract to more than $3 billion.
U.S. President Barack Obama, who plans to hold a summit on space in Florida next month, wants to add $6 billion to NASA's budget over the next five years to spur development of space taxis that can transport astronauts to and from the space station.
With the retirement of the space shuttle fleet later this year, NASA already has turned over station crew transportation to Russia, which charges the United States about $51 million per seat for rides on its Soyuz rockets.
SpaceX shares NASA's commercial rocket development and cargo delivery services with Virginia-based Orbital Science Corp, which plans to debut its Taurus II rocket and Cygnus spacecraft before April 2011.