Space Shuttle Atlantis Blasts Off on Final Mission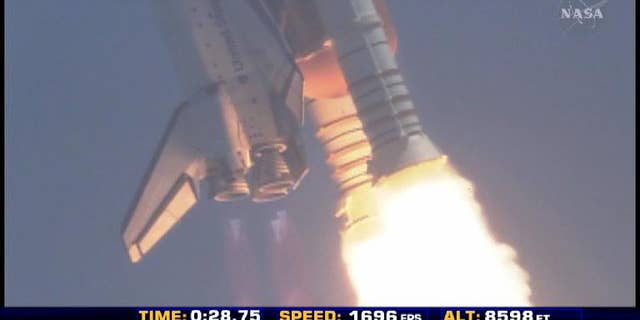 NEWYou can now listen to Fox News articles!
CAPE CANAVERAL, Fla. -- The biggest launch-day crowd in years watched eagerly as NASA's space shuttle Atlantis blasted off on its final mission. Only two missions are left after this one as NASA retires the entire shuttle fleet.
Despite the last-minute discovery of a loose ball bearing threatened to derail the launch, NASA declared the shuttle a-okay for lift off, which occurred on time at 2:20 p.m. Reaching speeds of well over 3,000 miles per hour within the first two minutes of launch, Atlantis blasted off from Kennedy Space Center in Florida -- "flying into a historic sunset," reported the space agency.
The spaceship reached 15,500 miles per hour eight minutes into the flight, at an altitude of 64 miles over the planet. It will arrive at its destination, the International Space Station, in about 36 hours, reported former NASA astronaut Tom Jones.
"We're going to miss those capabilities even as we struggle to design a new system," Jones told Fox News.
The 12-day mission, labelled STS-132, will deliver the Russian-built Mini Research Module-1 with a new docking port for Russian Soyuz & Progress spacecraft. Three spacewalks are planned to stage spare components outside the station.
More than 40,000 guests had descended on Kennedy Space Center to watch the historic event. VIPs on the list include Defense Secretary Robert Gates, second man-on-the-moon Buzz Aldrin and David Letterman.
Six veteran astronauts rode Atlantis toward the International Space Station on the mission, which took place under blue skies and perfect weather: 'Green' or 'Go' on all fronts with no constraints, reported the space agency. Conditions at the Trans-Oceanic Abort Landing (TAL) site in Zaragoza, Spain also reported 'Go' to support a launch.
The astronauts -- all repeat space fliers and all men -- couldn't resist a little humor before they got down to business. They showed up for their steak and cheeseburger breakfast wearing blue and black smoking jackets, white shirts and black bow ties. It was probably the most formal attire ever worn by astronauts on launch day, even it was just for a quick photo.
NASA plans to retire Atlantis and its sister ships Endeavour and Discovery by the end of the year to make way for the next era in space. Just how that era will shape up is still being discussed by NASA and lawmakers.
The Associated Press contributed to this report.