Space 'dumpling' looms into view as spacecraft prepares for asteroid rendezvous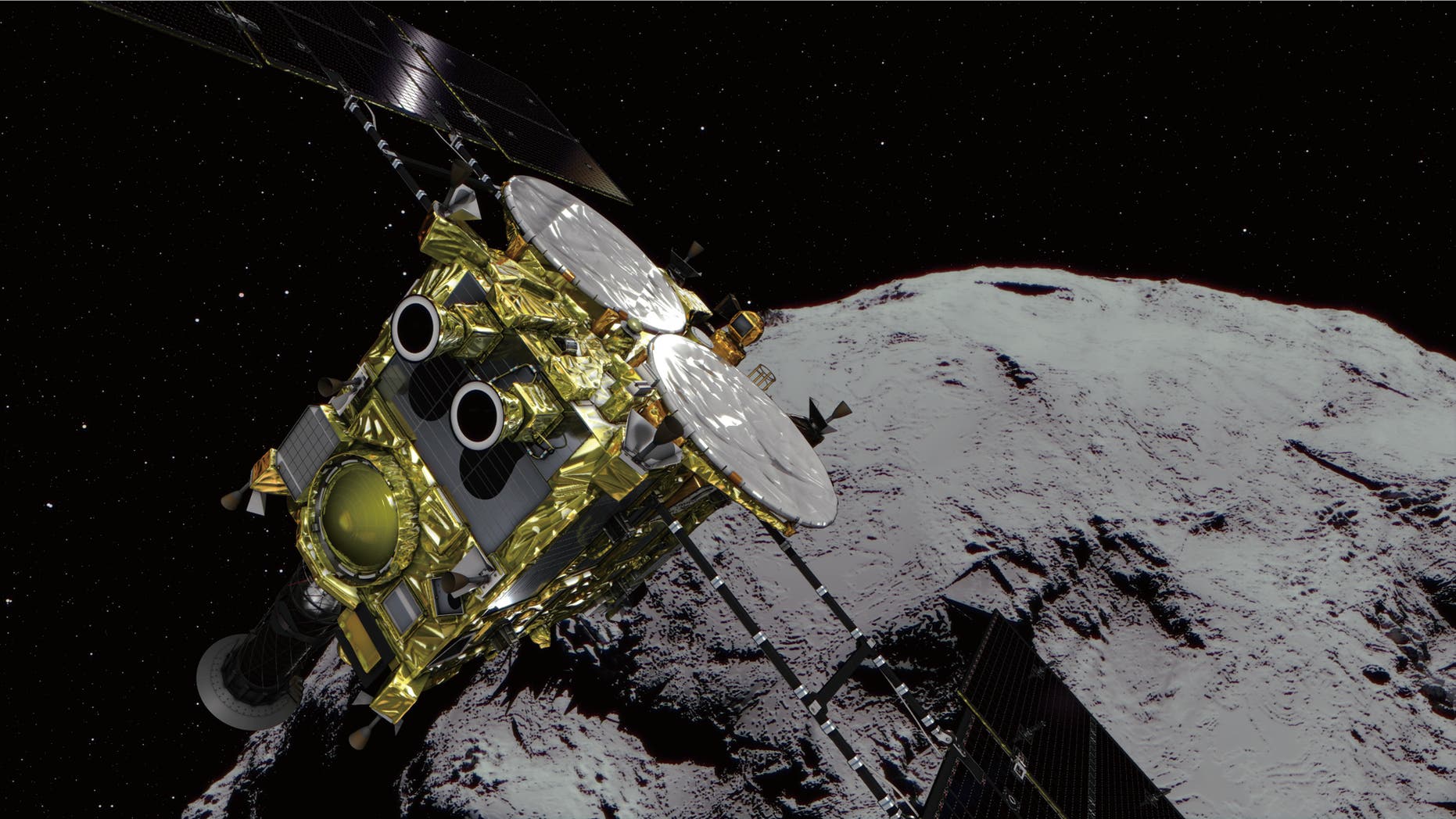 The "dumpling-shaped" asteroid Ryugu is looming into view of Japan's Hayabusa 2 spacecraft as it prepares to rendezvous with the space rock.
Launched on Dec. 3, 2014, Hayabusa 2's goal is to retrieve samples from Ryugu. The BBC reports that the unmanned spacecraft should arrive at its "home position" 20 km (12.4 miles) from the asteroid around June 27.
During its subsequent 18-month survey of Ryugu, Hayabusa 2 will deploy a lander and three small rovers to take samples of the asteroid, according to New Atlas.
AN ASTEROID TURNED INTO A BLAZING FIREBALL OVER AFRICA LAST WEEKEND
In a tweet last week, the Japan Aerospace Exploration Agency (JAXA) compared Ryugu's shape to a "dango" or Japanese sweet dumpling.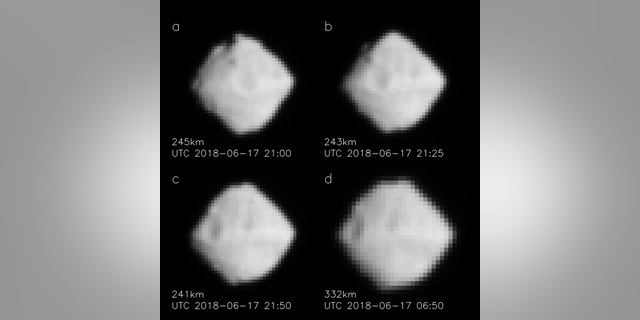 Hayabusa 2 is less than 100 kilometers (62 miles) from Ryugu, the mission tweeted on Wednesday.
Earlier this week, JAXA released images of the asteroid taken by the mission's ONC-T (Optical Navigation Camera - Telescopic). "On the surface of asteroid Ryugu, you can see a number of craterlike round recessed landforms," explained Project Scientist, Sei-ichiro Watanabe, in a statement.
The asteroid has a diameter of about 900 meters (2,953 feet), consistent with predictions from ground observations, according to Watanabe, who noted that the diameter measurement could change as the spacecraft gets nearer Ryugu.
"The shape of the asteroid looks like a spinning top (called a "Coma" in Japanese), with the equatorial part wider than the poles," he added. "This form is seen in many small asteroids that are rotating at high speed."
Hayabusa 2 is expected to leave Ryugu at the end of 2019 and return to Earth around the end of 2020.
The mission's MASCOT (Mobile Asteroid Surface Scout) lander was developed by the German Aerospace Center (DLR) and the French space agency (CNES).
The spacecraft is the successor to JAXA's Hayabusa, which landed on asteroid Itokawa in November 2005. Despite being dogged with problems, the mission collected a number of asteroid samples, which returned to Earth with Hayabusa in June 2010.
DINO-KILLING ASTEROID IMPACT WARMED EARTH'S CLIMATE FOR 100,000 YEARS
NASA is also on a mission to retrieve an asteroid sample. The space agency's OSIRIS-REx spacecraft launched on Sept. 8, 2016, from Cape Canaveral Air Force Station on a journey to near-Earth asteroid Bennu. On Aug. 17, 2018 the spacecraft will see Bennu with its Polycam imager from a distance of 2 million kilometers (1.2 million miles), marking the start of the mission's approach phase. OSIRIS-Rex is expected to arrive at Bennu on Dec. 3, 2018 and start surveying the space rock.
The spacecraft will return its asteroid sample to Earth in 2023.
Follow James Rogers on Twitter @jamesjrogers