Sons of Ethel Rosenberg push to clear mother's name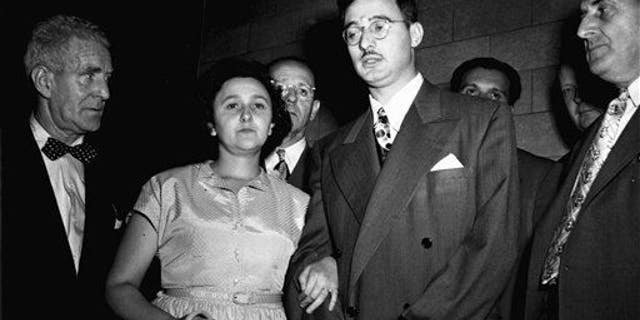 NEWYou can now listen to Fox News articles!
With President Obama's term coming to an end, the sons of Julius and Ethel Rosenberg are again calling on the president to clear their mother of the espionage charge for which they believe she was wrongly executed in 1953 in an intense Cold War case.
Michael and Robert Meeropol say their father was a Soviet spy but grand jury testimony shows their mother was not, per the Telegraph. It actually shows Ethel's brother, David Greenglass—who worked at the headquarters of the Manhattan Project and later served 10 years for spying—initially said he'd never discussed atomic secrets with his sister.
The Meeropols believe Greenglass lied six months later, when he said he saw Ethel transcribing secrets, to cover-up his wife's own role in the case. Greenglass later admitted he was pressured to lie by prosecutor Roy Cohn, who went on to become president-elect Donald Trump's mentor, per the Boston Globe.
With that in mind, the Meeropols say Obama's "presidential proclamation" (a pardon implies guilt, they say) may be their last hope to exonerate their mother in what would be "the first time that the United States has admitted that the federal government has wrongly executed one of its citizens," per the Telegraph.
The brothers plan to deliver a letter and case documents to the White House on Thursday, but they're not alone in this fight, per the Springfield Republican.
They're backed by the Boston Globe editorial board, Michael Moore, Noam Chomsky, and more than 40,000 others who've signed a petition. (Click for more on the case.)
This article originally appeared on Newser: Hope of Exonerating Ethel Rosenberg May End With Trump