Solar Eclipse: Why some schools across the US are closing and others are open
It's a solar eclipse. Do you know where your children are?
As the U.S. prepares for the eagerly anticipated total solar eclipse on Aug. 21, school districts are taking very different approaches to the historic event. Some have decided to close entirely, while others are donning shades and turning this event into a teachable moment.
The eclipse is expected to cover 12 states, spanning from South Carolina to Oregon. Most communities agree that personal safety during the event is paramount and at the top-of-mind. Concerns include proper eye protection, orderly dismissals, potential traffic issues and overall anxiety over the event.
SOLAR ECLIPSE 2017: WHAT YOU CAN (AND CAN'T SEE) IN NEW YORK CITY
However, because the event is also significant on the education front, the theories on the best way to handle it vary from place to place.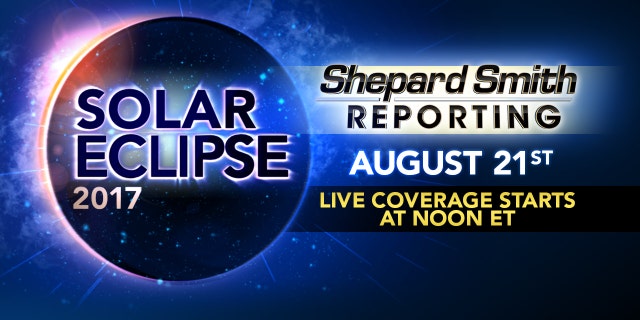 Some Catholic schools in south Florida will dismiss early or close entirely for the day. Dianne Laubert, spokeswoman for the Diocese of Palm Beach, told the Sun-Sentinel well-being and safety concerns are related to the time of the eclipse, which will be happening when school dismisses.
Being home with family is preferred, and "It's also a once-in-lifetime opportunity for students for children to experience this with their families," Laubert said.
In Kentucky, some school districts are canceling classes and allowing students to do their work at home, while other districts are extending the day by 15 minutes and handing out approved eyewear to observe the event.
Meanwhile, the Metro Nashville school board voted to close schools on that day, then changed its mind at the urging of the town's mayor, according to the Washington Post.
In a statement, the school board wrote:
"We had originally planned not to have school on the day of the eclipse but were asked by the Mayor to reconsider that decision as she felt strongly that young students could encounter safety issues if they were left home without supervision on that day. The district had already purchased safety glasses for students to take home so they could safely view the eclipse from home. Since Tuesday's vote, the administration has been working through logistics associated with the calendar change – including obtaining safety glasses for school personnel – and will communicate further details with families as we get closer to the start of school."
TOP FIVE WORST SUPERSTITIONS ABOUT SOLAR ECLIPSES
Students at the Westside Community School in Nebraska have known since this past spring that they will be donning shades to watch the event unfold, courtesy of Angela Bergman, a business science teacher who secured 7,000 pairs of eyewear for her school.
Social media is all abuzz with updates from school districts on the subject. Boaz City Schools in Boaz, Al. announced it would dismiss students early, citing safety concerns.
White County Middle School of Cleveland, Ga. also took to Twitter to announce it would close for the day.
For teachers looking to capitalize on the moment, the eclipse is pretty compelling. Ada Schools of Ada, Ohio tweeted a picture of students learning about the eclipse:
But the teaching audience isn't just limited to science classes. Berman told Omaha.com it "cuts across academic subjects."
'GREAT AMERICAN ECLIPSE' 2017: WHAT IT IS, WHEN IT'S HAPPENING AND WHY YOU HAVE TO SEE IT
"Social studies teachers, for example, can provide the historical context of eclipses, she said. Math teachers can delve into the formulas and computation that describe what's taking place. Biology students can observe how animals react during the darkening," wrote Omaha.com.