Skeleton of ancient marsupial lion, 'Tasmanian devil on steroids,' reconstructed for first time
For the first time, scientists have reconstructed the full skeleton of the predatory, prehistoric animal known as the "marsupial lion" which roamed Australia thousands of years ago.
Using recently discovered bones found in Komatsu Cave in Naracoorte in South Australia and Flight Star Cave in the Nullarbor Plain, including the first "known remains of the tail and collarbone of this animal" as well as previously discovered fossils, and comparing their findings to the anatomy of marsupials found today, scientists with Flinders University in Australia were able to reconstruct how the marsupial lion likely looked.
180-MILLION-YEAR-OLD 'SEA MONSTER' FOUND WITH SKIN AND BLUBBER
The research, published Wednesday in the journal PLOS, allowed scientists to "reach new conclusions about the biology and behavior of the 'marsupial lion,'" according to a statement from the study's authors.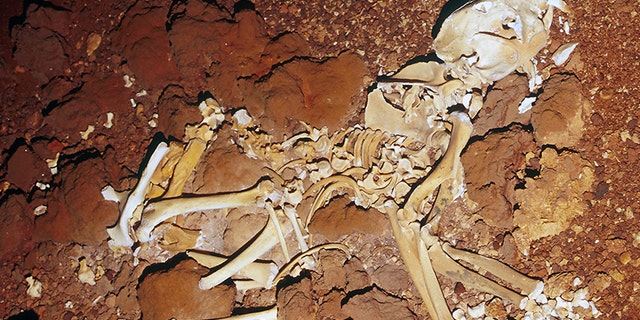 The marsupial lion, they learned, possibly weighed more than 200 pounds and had a tail that "appears to have been stiff and heavily-muscled." The animal, more formally known as the Thylacoleo carnifex, likely used its tail and hind legs to support itself while using its forelimbs for climbing or "handling" food, researchers said. This prehistoric creature also used its large, sharp claw to kill prey.
"The analysis suggests that Thylacoleo had a rigid lower back and powerful forelimbs anchored by strong collarbones, likely making it poorly suited for chasing prey, but well-adapted for ambush hunting and/or scavenging," the researchers added.
The animal launched onto its prey from trees "or others high perches," ABC in Australia reports. The structure of its collarbones also implies the marsupial lion was capable of pulling its prey up a tree or was able to "hang on to struggling prey," Rod Wells, one of the study's authors from Flinders University, told the outlet.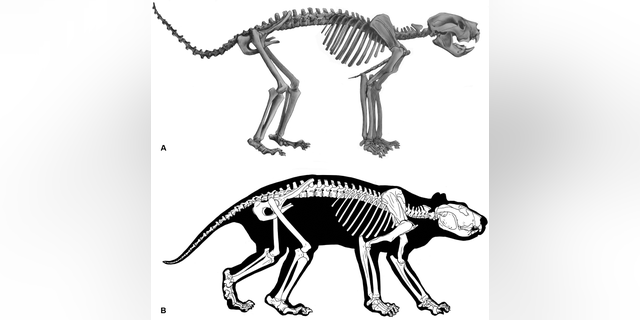 'UNICORN' FROM THE ICE AGE MAY HAVE EXISTED AT THE SAME TIME AS HUMANS, SHOCKING DISCOVERY REVEALS
Based on their findings, the researchers theorized the marsupial lion resembles the Tasmanian devil. In fact, one paleontologist, Michael Archer with the University of New South Wales in Australia, likened the marsupial lion to "a Tasmanian devil on steroids."
"When you think of a Tasmanian devil on steroids — a lot of steroids — if it's going to spend time tearing giant kangaroos apart, the idea that it would sit back on its haunches means that its tail really did need to bend like that," Archer told ABC.