Shocking video shows terrifying leopard attack in Indian city
A shocking video shows a terrifying leopard attack that left four people injured in India Friday.
The Times of India reports that the leopard sparked chaos after wandering into a neighborhood of the central Indian city of Indore.
The big cat first entered a house that is under construction in Indore's Palhar Nagar area, and then went into the home of a local businessman, according to the report. The leopard sat in the residence for three hours, occasionally emerging to attack forest officials and onlookers.
REMARKABLE VIDEO SHOWS TIGER AND BEAR LOCKED IN FEROCIOUS FIGHT
It is thought that the leopard sneaked onto the construction site during the night and hid inside the partly-built house. The animal was discovered by a construction worker when he arrived at the compound on Friday morning, according to SWNS.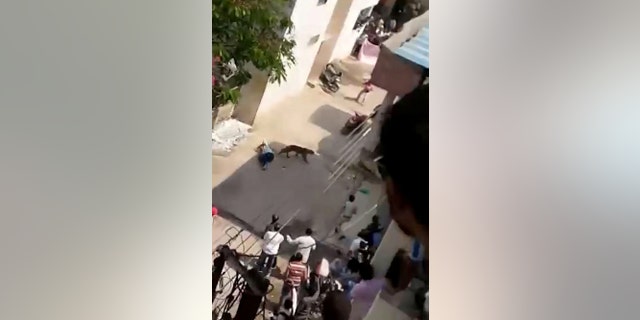 The leopard can be seen becoming increasingly agitated in the video, darting up a flight of stairs. The video clearly shows a crowd of people attempting to hit the leopard with sticks.
Forest officials had spread a net in an attempt to capture the big cat, but it jumped outside the trap and injured one of the officials, the Times of India reports. It then ran to the businessman's home, where it sat on the stairs.
LION FATALLY MAULS WOMAN AT REFUGE OF SOUTH AFRICAN 'LION WHISPERER'
Four tranquilizer pellets were fired in an attempt to sedate the animal, two of which reportedly missed their target.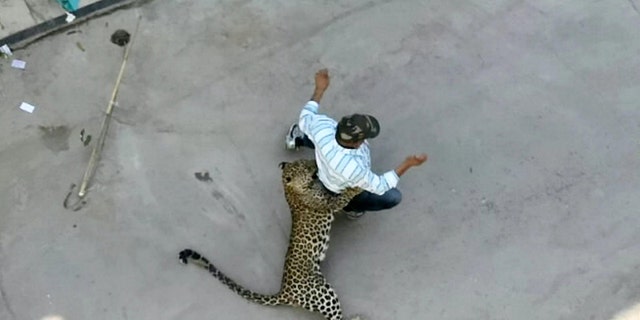 A third shot hit the leopard, which pounced on another forest official when he went inside the house to check on the big cat.
After another attempt to escape, the leopard retreated inside the house again, where it was given a second dose of tranquilizer, which knocked it unconscious. Officials waited half an hour before approaching the big cat, which they loaded into a cage and took to a zoo.