Sea lions terrorize San Francisco Bay swimmers in spate of attacks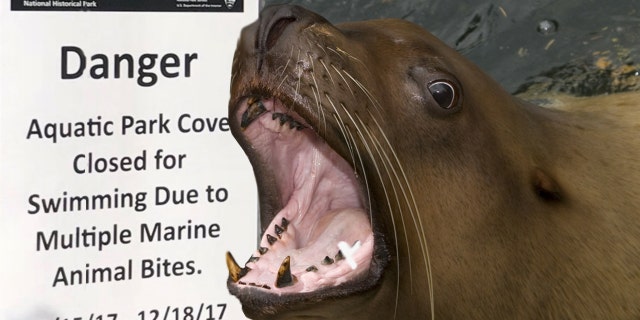 NEWYou can now listen to Fox News articles!
A spate of a sea lion attacks prompted authorities to close part of San Francisco Bay to swimmers this week.
The Telegraph reports that three swimmers were attacked by sea lions in the space of a week around the same area in San Francisco Bay. The attacks prompted officials to close the Aquatic Park Cove, a popular spot for swimming near Fisherman's Wharf, last week. The Cove re-opened on Wednesday.
Aquatic Park Cove is part of the San Francisco Maritime National Historic Park, which is run by the National Park Service.
GIRL DRAGGED INTO WATER BY SEA LION BEING TREATED FOR 'SEAL FINGER'
The attacks prompted the closure of Aquatic Park Cove to swimmers on Dec. 15. The Cove was initially scheduled to re-open on Monday Dec. 18. However, on Monday, officials announced that the site would be closed to swimmers until Wednesday.
On Thursday Dec. 14, San Francisco Fire Department reported that a swimmer was bitten on the arm by a sea lion in the waters off Aquatic Park Cove.
The San Francisco Police Department's Marine Unit applied a tourniquet to the man's arm before he was taken to hospital, according to the Sacramento Bee.
A second swimmer was reportedly bitten in the groin by a sea lion on Friday morning.
HEARTBREAKING VIDEO OF STARVING POLAR BEAR STIRS CONTROVERSY AMONG CONSERVATIONISTS
The Telegraph reports that a third swimmer was bitten earlier in the week but sustained only minor injuries and did not require medical treatment.
At this stage, it's unclear what is causing the attacks.
A spokeswoman for the San Francisco Maritime National Historical Park told Fox News that the Cove re-opened for swimming Wednesday. Over the past several days, she explained, "park rangers have not observed any unusual marine mammal activity, and the park has received no new reports of animal bites."
SHARK ATTACKS NEWLYWED ON HER HONEYMOON, VIDEO GOES VIRAL
While the park has re-opened for swimming, signage is being posted along the beach warning visitors of the recent incidents. "Although the immediate hazard seems to have passed, the park wishes to remind all visitors that marine mammals are wild animals, in their natural habitat, and that their behavior can be unpredictable," the spokeswoman said. "The frequency of recent sea mammal bites reported was abnormally high, but interactions between marine mammals and swimmers do occur."
Swimmers are being urged to take precautions such as keeping at least 50 feet away from sea lions and harbor seals. "Since the incidents seem to have occurred to solo swimmers, near the Cove entrance and/or in the central Cove area, the park also suggests staying close to the shore and swimming in groups, when possible," the spokeswoman said.
In a 2015 case study, experts explained that biting incidents involving sea lion and seals, although not unheard of, are rare in the waters of San Francisco Bay.
WHY ALLIGATOR ATTACKS ARE SPIKING IN FLORIDA
"Reports of bites and contact abrasions from sea lions and harbor seals are relatively rare in open-water swimmers and typically involve the lower extremities," explained the authors. "The majority of cases in our series occurred at low tide, and bumping of the swimmer by the animal before or after a bite was common, but no clear tide or attack pattern was identified."
However, in 2006, a rogue sea lion menaced swimmers in San Francisco Bay, biting at least 14 people, according to the San Francisco's Chronicle's SFGATE website.
Earlier this year, a young girl was dragged into the water by a sea lion in Vancouver. She survived the dramatic attack, which was captured on video.
Follow James Rogers on Twitter @jamesjrogers