Scientists want to clone this extinct, frozen prehistoric horse
NEWYou can now listen to Fox News articles!
Scientists are analyzing the perfectly preserved remains of a prehistoric horse in a bid to clone the now-extinct animal.
Recently discovered in permafrost in the Siberian region of Yakutia, the skin, hair, hooves and tail of the carcass are all preserved. The remains are estimated to be 30,000 to 40,000 years old.
Experts believe that the foal was about 2 months old when it died.
Semyon Grigoryev, head of the Mammoth Museum in the regional capital of Yakutsk, was surprised to see the perfect state of the find. He noted it's the best-preserved ancient foal found to date. The Siberian Times reports that the foal is an extinct species of horse known as Lena horse, or Equus lenensis.
CAN THE LONG-EXTINCT WOOLLY MAMMOTH BE CLONED?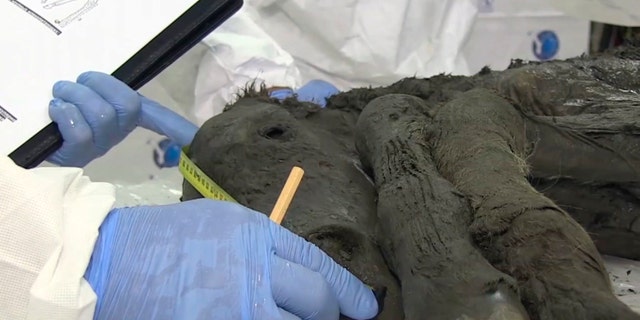 Russian and South Korean scientists are now working to extract cells from the foal that could potentially be used to clone the animal, according to The Siberian Times. If an embryo is successfully cloned, a modern horse could be used as a surrogate, experts say.
The foal was discovered in the Batagaika crater, a huge 328-foot deep depression in the East Siberian taiga. The giant crater is known locally as the "doorway to the underworld."
Other remarkable finds have been made in Siberia. In 2013, a 40,000-year-old wooly mammoth carcass was unearthed on remote Maly Lyakhovsky Island in Northern Siberia. The well-preserved remains, combined with advances in genetic research, fueled discussion about whether the extinct creature could be cloned.
FROZEN WOOLLY MAMMOTH FOUND IN SIBERIA COULD BE NEW SPECIES, RESEARCHERS SAY
While the possibility of woolly mammoth "de-extinction" has generated plenty of headlines in recent years, critics have argued that scientific resources would be better allocated to protect existing species.
Earlier this year, a fossilized "pygmy" wooly mammoth was also uncovered on Siberia's Kotelny Island, which experts say may be a new species.
In 2015, the well-preserved remains of long-extinct cave lion cubs were also found in Siberia. The discovery marked the first time that humans had set eyes on the species in more than 10,000 years.
EXTREMELY RARE WOOLLY MAMMOTH BONE FOUND ON BEACH
In 2012, a nearly complete skeleton of a woolly mammoth was unearthed in France, much to the delight of archaeologists.
Fox News' Chris Ciaccia, Walt Bonner and The Associated Press contributed to this article.
Follow James Rogers on Twitter @jamesjrogers