Scientists reveal they have found the world's oldest color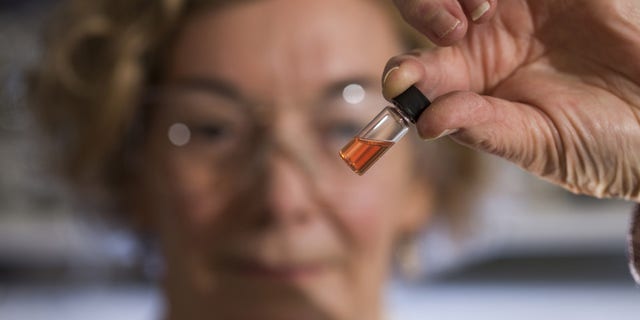 Well, get out the Crayolas and color me tickled pink.
According to a recent study, bright pink is the world's oldest color, having been discovered in rocks that are 1.1 billion years old.
The ancient pink pigments were found in marine black shales of the Taoudeni Basin in Mauritania, West Africa. The pigments found in the rock were more than 500 million years older than previously discovered pigments, according to Dr. Nur Gueneli of Australia National University, who made the discovery.
COULD REVIVING WOOLY-MAMMOTH GENES FIGHT THE EFFECTS OF GLOBAL WARMING?
"The bright pink pigments are the molecular fossils of chlorophyll that were produced by ancient photosynthetic organisms inhabiting an ancient ocean that has long since vanished," Dr. Gueneli said in a statement announcing the findings.
To find the pigments, Dr. Gueneli and her team crushed the rocks into a powder; from there, they extracted and analyzed the molecules of the ancient organisms inside the rocks.
In concentrated form, the fossils ranged from "blood red to deep purple" and when they became diluted they turned into a bright pink.
The researchers also found that ancient marine ecosystems were dominated by cyanobacteria, a tiny bacteria that gets energy from photosynthesis.
"The precise analysis of the ancient pigments confirmed that tiny cyanobacteria dominated the base of the food chain in the oceans a billion years ago, which helps to explain why animals did not exist at the time," Dr. Gueneli added in the statement.
THIS ENZYME ENABLE LIFE TO CONQUER A HOSTILE EARTH
Cyanobacterial oceans started to disappear around 650 million years ago, which ultimately led to complex life becoming dominant on the planet, researchers said.
"The cyanobacterial oceans started to vanish about 650 million years ago, when algae began to rapidly spread to provide the burst of energy needed for the evolution of complex ecosystems, where large animals, including humans, could thrive on Earth," said senior lead researcher and ANU associate professor Jochen Brocks.
Follow Chris Ciaccia on Twitter @Chris_Ciaccia