Scientists 'Googled' data from NASA's Kepler space telescope to discover new planet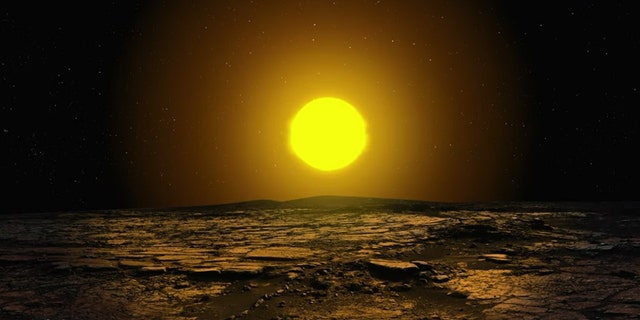 NEWYou can now listen to Fox News articles!
Data from NASA's Kepler space telescope has been crunched using Artificial Intelligence, helping scientists discover a new planet outside our solar system.
Experts harnessed machine learning technology from Google to spot Kepler-90i, a hot, rocky planet circling Kepler-90, a Sun-like star 2,545 light years from Earth. A light year, which measures distance in space, equals 6 trillion miles.
The surface of Kepler-90i is 800 degrees Fahrenheit, making it unlikely that life as we know it could exist there, according to NASA.
STARGAZERS FIND TWENTY NEW EARTH-LIKE PLANETS THAT COULD HOST LIFE
By using AI, computers learned to identify planets by trawling Kepler data for instances where the telescope recorded signals from exoplanets far beyond our solar system.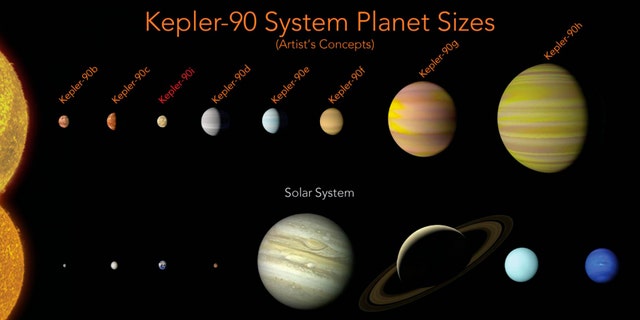 The discovery means that our solar system is now tied for most number of planets around a single star, according to NASA.
"We used machine learning to identify planets that were missed by previous searches of Kepler data," explained Christopher Shallue, senior software engineer at Google AI, during a press conference Thursday. "They key idea is to let the computer learn by example."
ASTRONOMERS MAY HAVE DISCOVERED THE FIRST EXOMOON
"The Kepler mission had collected so much data that it was impossible for scientists to examine it manually," he added.
Shallue worked with Andrew Vanderburg, an astronomer and NASA Sagan Postdoctoral Fellow at The University of Texas, Austin, to make the stunning discovery. "For the first time since our solar system planets were discovered thousands of years ago, we know for sure that our solar system is not the sole record holder for the most planets," Vanderburg said, in a statement.
The experts studied a four-year dataset from Kepler consisting of 35,000 possible planetary signals.
ALIEN LIFE LOOMS? NEWLY DISCOVERED EXOPLANET MAY BE BEST CANDIDATE, EXPERTS SAY
The AI used what is known as a neural network, which is loosely inspired by the structure of the human brain, to trawl the vast trove of data. "Andrew and I designed a neural network that can identify planets, even if the signal is weak," explained Shallue. Initially, the neural network was trained to identify exoplanets in transit using 15,000 previously-vetted signals from the Kepler exoplanet catalogue.
The research also led to the discovery of Kepler-80g, a sixth planet orbiting the Star Kepler-80. "The Earth-sized Kepler-80g, and four of its neighboring planets form what is called a resonant chain – where planets are locked by their mutual gravity in a rhythmic orbital dance," explained NASA, in a statement. "The result is an extremely stable system, similar to the seven planets in the TRAPPIST-1 system."
In 2016, NASA announced the discovery of seven Earth-sized planets orbiting the star TRAPPIST-1, nearly 40 light years away from Earth.
ASTRONOMERS DISCOVER 60 NEW WORLDS, FIND 'SUPER EARTH'
A research paper based on Shallue and Vanderburg's findings has been accepted for publication in The Astronomical Journal.
In a tweet, Google CEO Sundar Pichai described the research as an "amazing example" of how AI can help with scientific discoveries.
Vanderburg and Shallue are planning to apply their neural network technology to Kepler's full set of more than 150,000 stars. "We hope that using this technique we will be able to find lots of new planets," said Shallue.
TRUMP WANTS TO SEE NASA BOOTS ON THE MOON
"Just as we expected, there are exciting discoveries lurking in our archived Kepler data, waiting for the right tool or technology to unearth them," said Paul Hertz, director of NASA's Astrophysics Division in Washington, in a statement. "This finding shows that our data will be a treasure trove available to innovative researchers for years to come."
The find is just the latest discovery made by the Kepler space telescope. Earlier this year, for example, experts used Kepler data to discover 20 new Earth-like planets.
In 2015 NASA's Kepler mission discovered Kepler-452b, the first near-Earth-size planet in the "habitable zone" around a sun-like star.
Follow James Rogers on Twitter @jamesjrogers