Samsung boss warns 'not to fear' robot takeover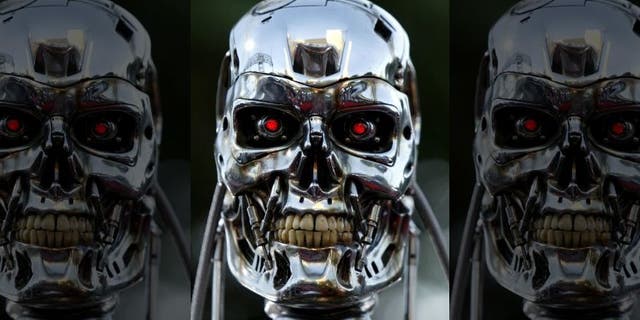 A Samsung chief has revealed the company is spending billions of dollars on artificial intelligence, and hopes to convince you there's nothing to fear.
His comments at this week's IFA tech show in Berlin go against countless warnings over AI from the likes of Stephen Hawking and Elon Musk.
AI, or artificial intelligence, is a type of computer technology that thinks for itself – getting smarter over time, and responding to your requests like a human would.
"For nearly a decade, we've been leading the global research and development race to unleash the power of AI…for consumers," said HS Kim, CEO of Samsung Electronics.
"Last year alone we invested $14billion in research and development.
"We also committed $22billion of investment over the next three years to advance AI…"
There's no shortage of AI devices out in the wild today.
Amazon kicked off the recent AI revolution with its Amazon Echo smart speaker, powered by the Alexa digital assistant.
Google and Apple quickly followed suit with their own smart speakers, the Google Home and the Siri-powered Apple HomePod.
Samsung has its own artificial intelligence too, called Bixby – it's available on select Samsung smartphones.
"In the short time that voice assistants have been available, it's clear that they are becoming integral to the way people search for information," Kim explained.
"With an estimated 600million people using voice-activated assistants at least once a week globally, devices like this are the future of smart technology in the home."
But Samsung faces a big problem: lots of people are terrified of AI.
It's not just everyday gadget fans that are scared either – some of the biggest names in tech and science have warned over AI going rogue.
The late Professor Stephen Hawking once said: "I fear that AI may replace humans altogether. If people design computer viruses, someone will design AI that improves and replicates itself. This will be a new form of life that outperforms humans."
And Tesla, PayPal and SpaceX founder Elon Musk warned that AI poses a "fundamental risk to the existence of civilization".
Samsung's HS Kim admits this is a concern: "We need to empower people to feel like they have control over the future we are working to create.
"Our goal is to open their minds to the potential of AI without fear it may take over their lives.
"We'll do this through intelligent experiences that put people first. That are fun and safe, that learn and adapt to meet people's changing needs."
Kim revealed how Samsung has opened research centres for AI in the UK and US, as well as Russia, Canada and its home turf of South Korea.
He added: "By 2020, we expect to have thousands of AI experts working at Samsung labs around the world."
Earlier this year, The Sun spoke to leading futurologist Dr Ian Pearson, who warned that the risk of global robot domination was very real.
"We'll have trained [artificial intelligence] to be like us, trained it to feel emotions like us, but it won't be like us. It will be a bit like aliens off Star Trek – smarter and more calculated in its actions," he explained.
"It will be insensitive to humans, viewing us as barbaric. So when it decides to carry out its own experiments, with viruses that it's created, it will treat us like guinea pigs."
And if it does go wrong, we're probably to blame.
At least that's the view of Professor Luciano Floridi, the director of Oxford University's Digital Ethics Lab.
"The real risks with AI are entirely human: misuses, wrong choices, bad design, and missed opportunities," Professor Floridi told The Sun.
"If something goes wrong the responsibility will be ours. The only threat to humanity is humanity itself. The rest is science fiction."
This story originally appeared in The Sun.