Rare 'giant tusker' elephant killed by poachers, 25 left in wild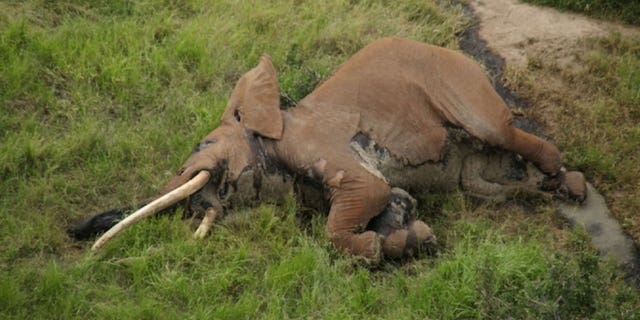 NEWYou can now listen to Fox News articles!
A 50-year-old 'giant tusker' elephant was killed by poachers in Kenya, leaving only 25 surviving in the wild.
Satao II, named after another famed elephant who was poached in 2014, was found dead near the border of the Tsavo National Park.
WILDLIFE RANGERS IN ZIMBABWE KILL 3 SUSPECTED POACHERS
Conservationists believe that Satao II's cause of death was a poisoned arrow, but this has not yet been confirmed.
The elephant, whose ivory tusks were long enough to nearly brush the ground as he walked, was adored by visitors of the Tsavo National Park.
HOW TECHNOLOGY IS HELPING CATCH NIGHTTIME POACHERS IN AFRICA
"I'm pretty gutted really," Richard Moller of the Tsavo Trust told AFP. "This particular elephant was one that was very approachable, one of those easy old boys to find."
A statement from the Tsavo Trust website explained that Satao II's carcass was found with his tusks still intact and they were recovered before the poachers could claim them and "further fuel the illegal ivory market."
Two men suspected of being Satao II's poachers were detained shortly after the giant carcass was discovered by routine aerial surveillance, BBC reports.
Of the 25 'giant tusker' elephants left in the world, 15 of them reside in Kenya, which is a "poaching hotspot" according to the trust.
The Tsavo Trust will continue its fight against poaching and to protect the friendly giants Moller calls "icons" and "ambassadors for elephants."