Rare alligator gar caught in Indiana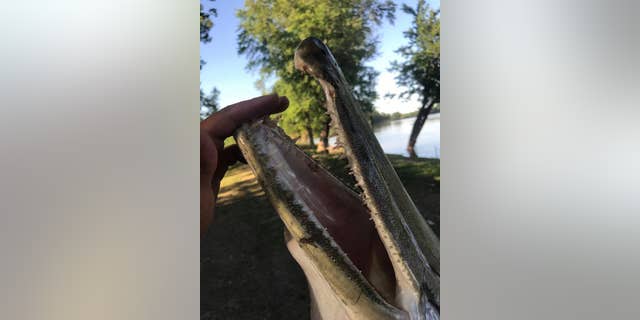 NEWYou can now listen to Fox News articles!
An Indiana angler was surprised to reel in a prehistoric fish more than five feet long earlier this month.
One glance at the thick-scaled alligator gar in question could easily lead many to believe gators have moved beyond their storied home of Florida. But while an alligator gar is something entirely different than the reptile of the same name, it carries its own legend.
MASSACHUSETTS FISHERMAN REELS IN PURSE STOLEN 18 YEARS AGO
So-called because of its toothy mouth and broad snout, the alligator gar is a fish that bears a remarkable resemblance to four-legged alligators. According to National Geographic, they can grow to a length of up to 10 feet and weigh nearly 300 pounds. The fish captured was just over 5 feet and weighed 55 pounds.
The Indiana Department of Natural Resources (DNR) says the fish aren't normally found in Indiana waters. More common to the state are shortnose, longnose and spotted gar.
The rare catch is the first alligator gar verified by Indiana biologists in recent history. Indiana is at the northern edge of the fish's historic range which includes much of the coastal U.S Southeast.
FRUSTRATED MICHIGAN MAN ATTEMPTS TO PAY $270 FINE WITH PENNIES
A National Geographic profile states alligator gar "inhabit waters as far west as Texas and Oklahoma, as far north as the Mississippi River Basin and the lower Ohio and Missouri river systems, and southern drainages well into Mexico."
The DNR is examining the fish to determine its age and source—nearby states Illinois and Kentucky have current alligator gar stocking programs. Indiana does not currently have a restoration program in place.
Despite the unusual catch, the bowfisherman who seized the alligator gar faces no legal action since Indiana has "no regulations on take of alligator gar."