Rare 10-foot squid washes up on Oregon beach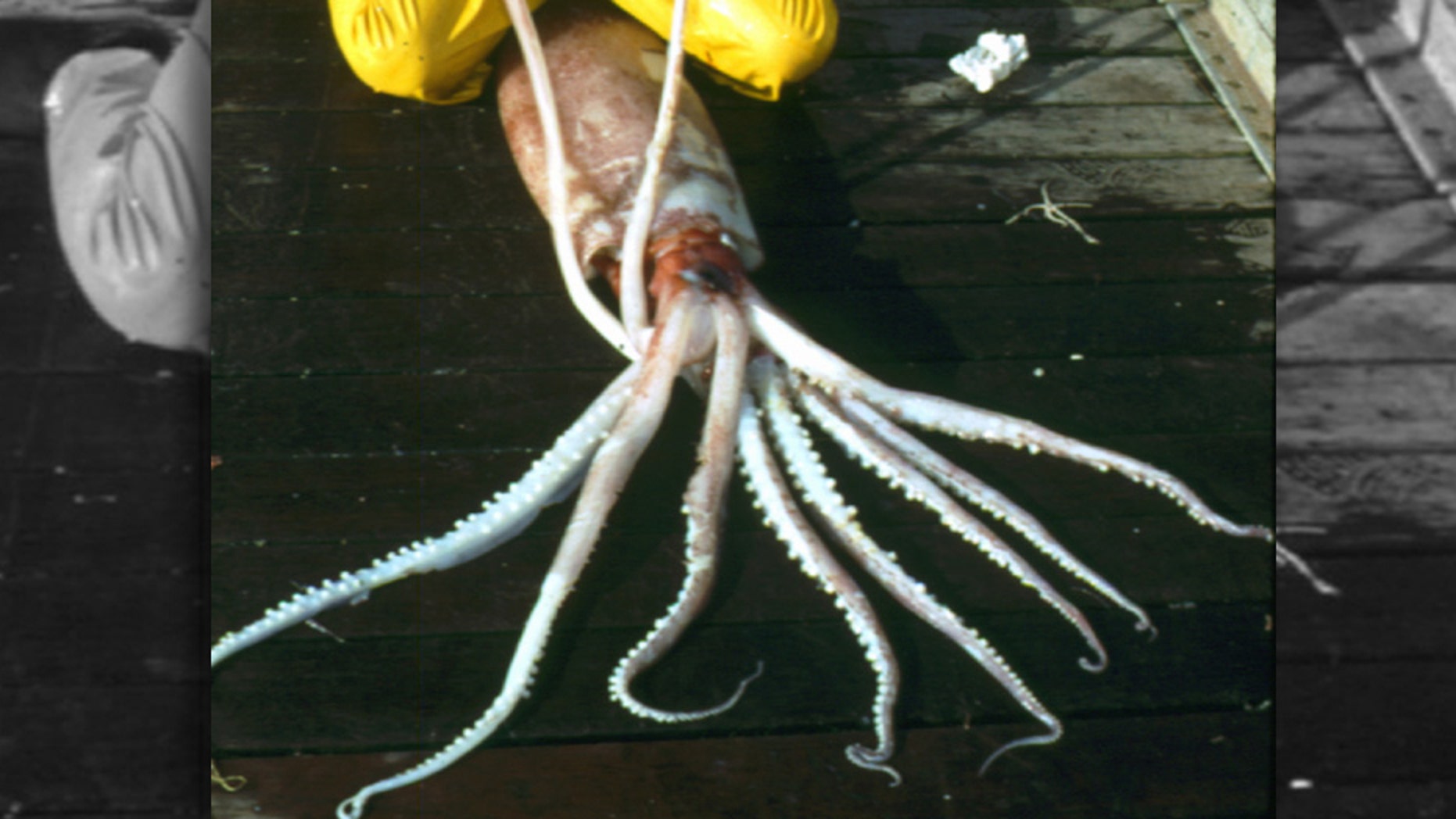 An extremely rare robust clubhook squid washed up on an Oregon beach last month, giving scientists a unique opportunity to study the mysterious deep sea creature.
The 8-legged squid, which measured 10 feet long and weighed roughly 90 pounds, was already dead when beachgoers discovered it near Silver Point — just south of Cannon Beach, according to the Seaside Aquarium.
"It had been dead for a little while and some scavenging had occurred but all in all it was in pretty good shape," the aquarium wrote in a July 28 Facebook post, which has received hundreds of reactions.
GIANT EEL BITES WOMAN VACATIONING IN HAWAII: 'THERE WAS BLOOD EVERYWHERE'
Researchers from the Seaside Aquarium snapped photos of the large squid, which they will dissect and examine in hopes of learning more about its habits. Specifically, researchers focused on the squid's beak, which remained intact.
"Little is [known] about the life history of these amazing giants, so we were very exited to be able to get a closer look," the aquarium explained.
The robust clubhook squid can grow up to 12 feet long, making it the third largest squid species in existence.
"M. robusta is distinguished from other squid of the North Pacific by presence of 2 rows of sharp hooks on the tentacle clubs, by the length of its fins, the fleshy longitudinal ridges on its body, and its large size," the Seattle Aquarium explained in a blog post, citing research from F.G. Hochberg, an expert on cephalopods.
This particular type of squid is typically found in warmer areas of the Pacific Ocean, anywhere from California to Japan, the Oregon Coast Beach Connection reports. Seaside Aquarium manager Keith Chandler told the local publication it's the "first" robust clubhook squid he's ever witnessed.
MYSTERIOUS 20-FOOT SEA CREATURE COVERED IN SHAGGY HAIR WASHES UP ON PHILIPPINES BEACH
The deceased squid in Silver Point had two long tentacles and eight arms — each containing an average of 50 to 60 suckers.
"We suspect that this squid was a spawned out female. Squids, like octopuses, die shortly after laying eggs," the aquarium added.
Locals thanked the aquarium for updating them on their findings.
"Love the pictures and information about the sea!!! Please keep educating us!" one Facebook user wrote.
"Thanks for sharing. Learned something today, never knew they existed!" another added.
"So interesting , thank you for sharing ... sorry it died but glad it helps people to know more about them," one woman commented.