'Pride and Prejudice' copy from 1813 to hit auction block in November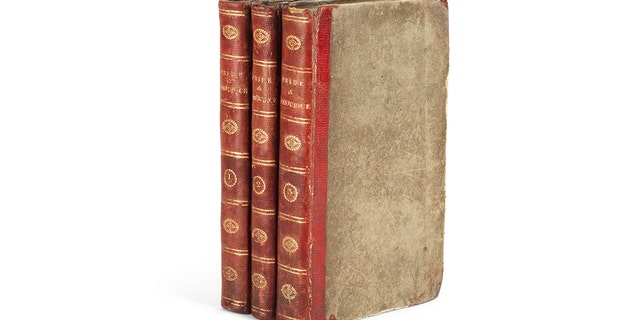 A centuries-old copy of "Pride and Prejudice" is slated to hit the auction block.
Book lovers will be able to bid on a first-edition printing in England in late November, according to auction company Bonhams.
The book, published in three volumes, will likely sell for £15,000 to £20,000 (roughly $17,400 to $23,390), the auction house says.
"Pride and Prejudice" was Jane Austen's second published novel. The first, "Sense and Sensibility," was published in 1811.
WALLET LOST DECADES AGO FINALLY RETURNED TO SOLDIER'S FAMILY
"The book is being offered in the Fine Books and Manuscripts sale in London on Tuesday 27 November," Bonhams spokesman Andrew Currie told Fox News via email.
He added, "Bidding can be made online, by telephone, by leaving a bid with the auctioneer or of course by attending the sale in person."
Bonhams' head of fine books in London, Matthew Haley, spoke about the book's interest.
FISHERMAN HAUL IN 1-TON WWII BOMB
"Pride and Prejudice is Jane Austen's best known novel, and one of the most popular books in the English language," he said in a statement.
Haley added, "First editions rarely come to auction and this copy is especially appealing because it is in an original binding from the period and has never been rebound. I expect a lot of interest from collectors."