Previously unseen prison photos of Hitler deputy Rudolf Hess surface
NEWYou can now listen to Fox News articles!
Previously unseen photos and letters from Adolf Hitler's deputy Rudolf Hess, who committed suicide in prison in 1987, are up for auction in the U.K. this weekend.
Hess was involved in one of the strangest incidents of World War II when he embarked on a solo flight to the U.K. in an attempt to broker a peace deal. After flying almost 1,000 miles in a fighter plane, he parachuted into a field in Scotland on May 10, 1941, where he was captured.
Held as a prisoner until the end of the war, Hess was tried at Nuremberg. In September 1946, he was found guilty of crimes against peace and conspiracy with other German leaders to commit crimes. However, he was found not guilty of war crimes and crimes against humanity. Escaping the gallows, he was given a life sentence and transferred to West Berlin's Spandau Prison on July 18 1947.
WORLD WAR I FIGHTER ACE'S INCREDIBLE LETTERS SURFACE
Initially, Hess was one of seven Nazis incarcerated in Spandau. Three of his fellow inmates, former diplomat Konstantin von Neurath, one-time Reich Minister for Economic Affairs Walther Funk and former German naval leader Erich Raeder were released on account of poor health in the 1950s. Former admiral Karl Dönitz served his time and was released in 1956. Former politician Baldur von Schirach was released 10 years later at the end of his 20-year sentence, as was former Reich Armaments Minister Albert Speer.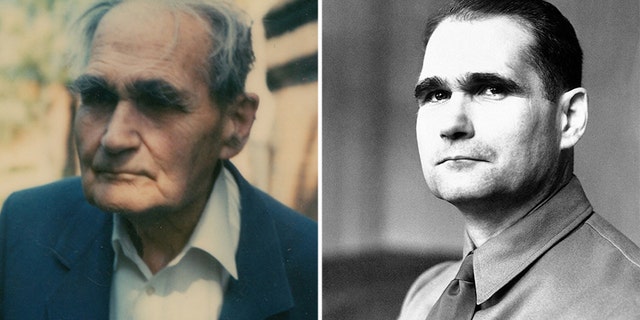 The release of von Schirach and Speer left Hess as the sole inmate at Spandau Prison until his death. By the 1980s he was allowed to move freely around the cell block, and spent his time watching TV and films, reading and gardening. He hanged himself on Aug. 17, 1987 in a summer house that had been built for him in the prison garden. He was 93 at the time of his death.
Spandau prison was subsequently demolished to prevent it becoming a shrine for neo-Nazis.
WWII SOLDIERS DUMPED INTO MASS GRAVE AFTER SHIPWRECKS SCAVENGED, REPORT SAYS
The lot includes eight previously unpublished color photos of Hess at Spandau, as well as 20 additional pictures of the prison.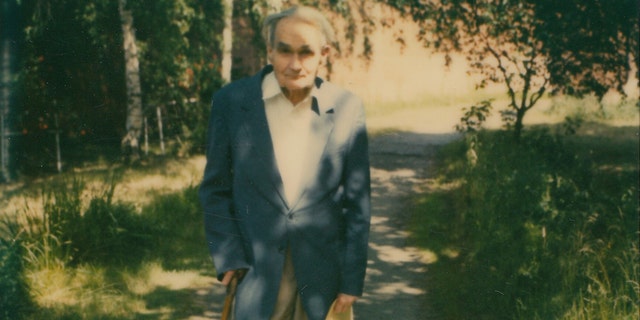 The photographic archive from his final years shows Hess in the summer house, as well as other images of Spandau. Written documents included in the lot encompass letters to and from the inmate's family, as well as requests he made to prison officials. On one printed card from his son, Hess has written a note addressing his wartime journey to the U.K.
"The archive is historically important on many levels, from the unpublished photographs of Rudolf Hess to the emotive words he has written to his son in regard one of the most bizarre episodes of WW2 – 'I made it once to England for you - whether you admit it'," explained auctioneer Andrew Aldridge, in an email to Fox News. "The archive quite literally shows how far this once powerful man had fallen, from Adolf Hitler's deputy to him asking the prison governor of Spandau for a winter cap and a writing table for his cell."
USS WARD, SHIP THAT FIRED FIRST AMERICAN SHOTS OF WORLD WAR II, FOUND IN PHILIPPINES
The lot, which will be auctioned by Henry Aldridge & Son on Saturday, has a pre-sale estimate of $7,130 to $11,407.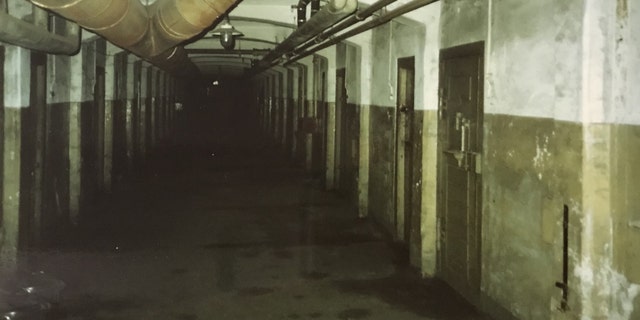 An archive of letters from a World War I fighter ace will also go under the hammer at the auction house this weekend.
The letters from U.S.-born Lt. Edgar Taylor, who served with British forces, offer a glimpse into life on the Western Front.
Follow James Rogers on Twitter @jamesjrogers