Pi Day kicks off 30th anniversary: What to know about the tradition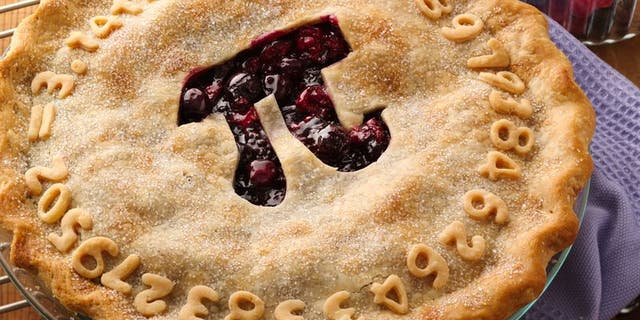 Get ready for a slice of the action: Wednesday marks Pi Day, which pays tribute to the mathematical constant.
The 30th anniversary of the event is being celebrated this year by tech giant Google with a special doodle design created by chef Dominique Ansel.
Read on for what you should know about Pi Day.
A special event 
Pi Day takes place March 14, the day each year when scientists and mathematicians celebrate the ratio of a circle's circumference to its diameter.
Physicist Larry Shaw -- also known as the "Prince of Pi" -- originally came up with the concept for the event, which kicked off at the San Francisco Exploratorium in 1988.
Shaw said he chose March 14 because 3.14 are the first three digits of pi, denoted by the Greek letter "π."
"On the first Pi Day, staff brought in fruit pies and a tea urn for the celebration," the Exploratorium explains online. "At 1:59—the pi numbers that follow 3.14—Shaw led a circular parade around the museum with his boombox blaring the digits of pi to the music of 'Pomp and Circumstance.' The parade ended at an 'accumulation point,' later named the 'Pi Shrine.'"
The special day became an annual tradition at the California museum, and eventually "the idea snowballed into something much bigger," the Exploratorium added.
Anything else?
"Though modern mathematicians have calculated more than one TRILLION decimal places beyond the standard '3.14,' pi is an irrational number that continues on to infinity!" Google explained in a post.
The CIA's birthday is also part of the digits in pi, the spy agency pointed out in a tweet.
Google also noted that "Pi Day observers often celebrate with a slice of their favorite pie in honor of the number's delicious sounding name."
This year, hungry Pi Day fans are in luck: special deals are being offered by the likes of Whole Foods, Boston Market and Blaze Pizza. Pillsbury even created its own "Pi Day Pie", posting the recipe on its website, to mark the occasion.
Pi Day also shares connections to some famous physicists: it falls on the same date as Albert Einstein's birthday, who would be 139 years old if he was still alive today. Physicist Stephen Hawking died on Pi Day this year, at age 76.
Fox News' Amy Lieu contributed to this report.