Orville Wright's letter, other patent documents to be auctioned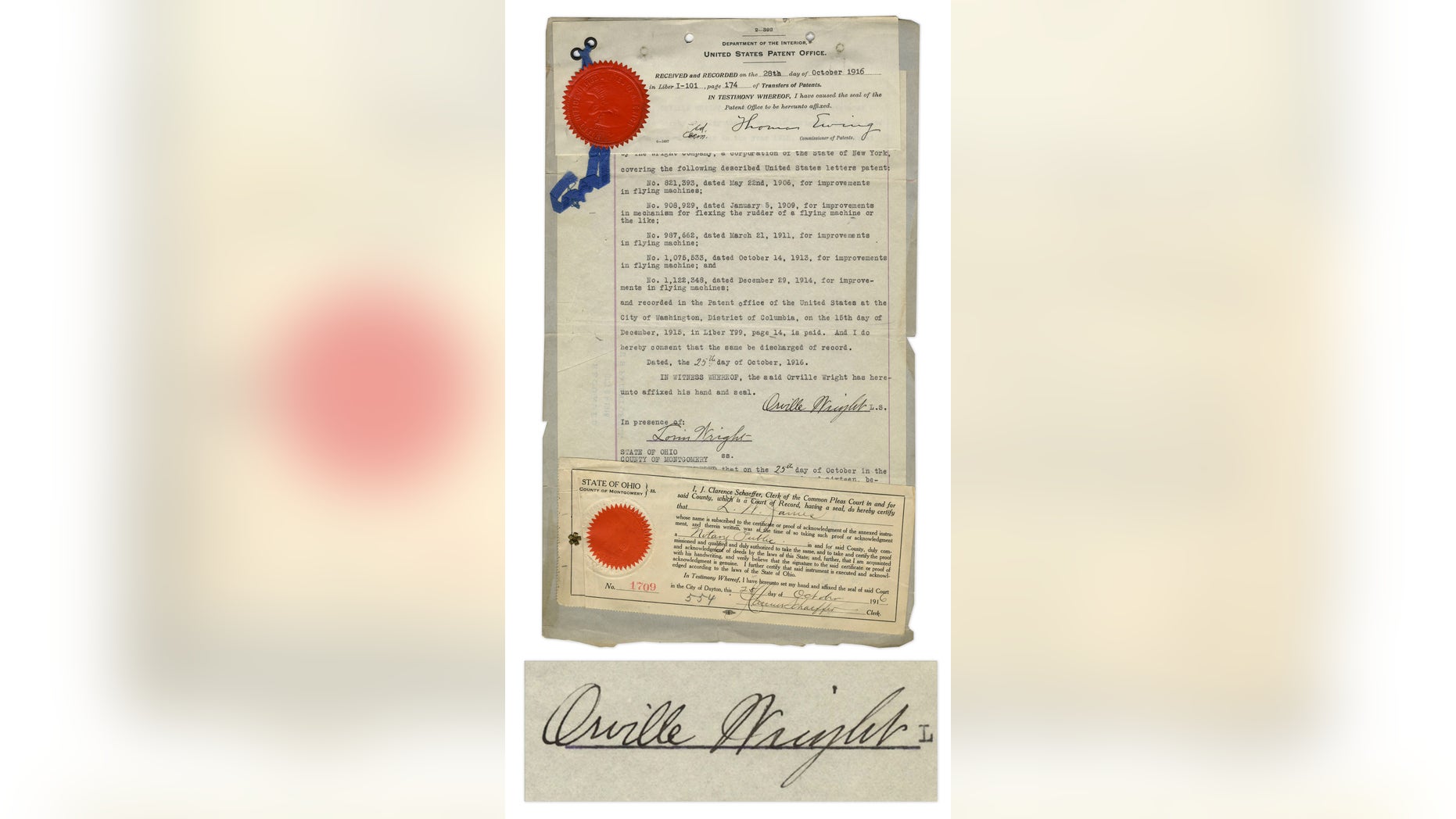 Several documents offering rare insight into Orville Wright will be auctioned Thursday.
A 1916 patent transfer document for Wright's invention of the airplane and one in which the inventor defends his reputation will be auctioned by Nate D. Sanders Auctions in Los Angeles. Bidding for the patent transfer document and letter will begin at $25,000 and $12,500 respectively.
The first document confirms Orville Wright mortgaged five patents to New York investors led by William Boyce Thompson and that he had been paid – thus ensuring any challenges to the patents were relayed to the new owners. The Wright Company had entered into a loan agreement with the Thompson investors in return for $1 million.
Related: Letter written from Titanic sells for $200G at auction
The first patent was critical, since many inventors legally challenged the Wright Brothers' airplane invention. After failing to obtain a patent for their first airplane, they secured a patent (No. 821,293) in 1906 that covered the three-axis control system used on the original 1902 glider, rather than the plane. Every plane today uses the Wright Brother's control system.
There are three documents in this lot. They include an October 25, 1916, notarized letter signed by Orville Wright, a notarized statement from the same date signed by a Dayton notary public and an acknowledgment of receipt of the letter by the United States Patent Office dated October 28, 1916.
Related: Contract between Wrights, Smithsonian decrees Flyer was first plane
A letter Orville Wright sent in 1928 to Connecticut Senator Hiram Bingham will also go on the block. In that typewritten letter, Wright appeared angery with the Smithsonian Institute for discrediting the Wright Brothers as inventors of the first flying machine.
The Smithsonian recognized ex-Smithsonian Secretary Samuel P. Langley as the inventor of the airplane in their 1914 annual report.
''The important point at issue is as to who was the inventor of the first successful flying machine. The Smithsonian for the past seventeen years has kept up constant propaganda to take the credit for this away from my brother and myself," Wright wrote in the letter. "Such practice as this is beneath the dignity of a scientific institution … I believe there was no one else in the world at that time beside Wilbur and myself that had the scientific data for building a machine that would fly.''
Related: Wright or wrong? Smithsonian enters 'first in flight' fight
Fourteen years later, the Smithsonian Institute resolved the dispute with the Wright brothers, purchased the "Wright Flyer" and displayed it at the National Museum on December 17, 1948.