NASA's Mars 2020 Perseverance Rover launches to the Red Planet
The rover launched from Florida atop a United Launch Alliance Atlas V rocket
NASA's Mars 2020 Perseverance Rover has launched on its epic mission to the Red Planet.
The rover launched into space atop a United Launch Alliance Atlas V rocket at 7:50 a.m. EDT from Launch Complex 41 at Cape Canaveral Air Force Station in Florida.
The Rover lifted off right at the start of the mission's launch window, which had been planned for when Earth and Mars are in perfect alignment. Lifted by 2 million pounds of thrust, it took the rocket about 5 seconds to clear the launch tower at Cape Canaveral.
NASA'S MARS 2020 PERSEVERANCE ROVER: WHAT YOU NEED TO KNOW
"We're in touch with the spacecraft, everything is nominal," Dr. Thomas Zurbuchen, NASA's associate administrator for the Science Mission Directorate, told NASA TV shortly after launch. The successful launch, he said, was "like punching a hole in the sky."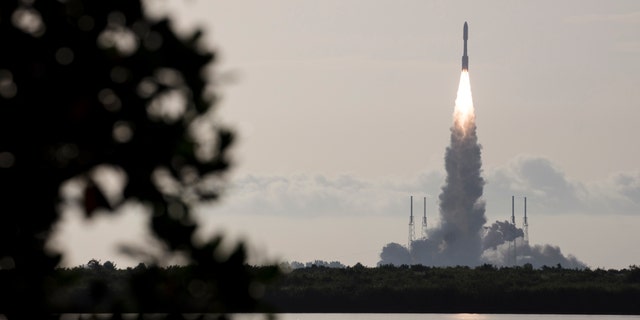 The journey to Mars will take seven months. The rover is scheduled to land on Mars' Jezero Crater on Feb 18, 2021. The mission's duration on the Red Planet's surface is at least one Martian year or about 687 days.
A Mars helicopter is also being transported with the rover. Dubbed Ingenuity, the helicopter will be the first aircraft to attempt powered flight on another planet.
During its time on Mars, the Perseverance Rover will search for evidence of ancient life on the Red Planet.
NASA'S NEXT MISSION TO MARS WILL HONOR THOSE FIGHTING AGAINST COVID-19
Mars is looming large for a number of other countries. China, for example, recently launched its own Tianwen-1 mission to land a rover on Mars.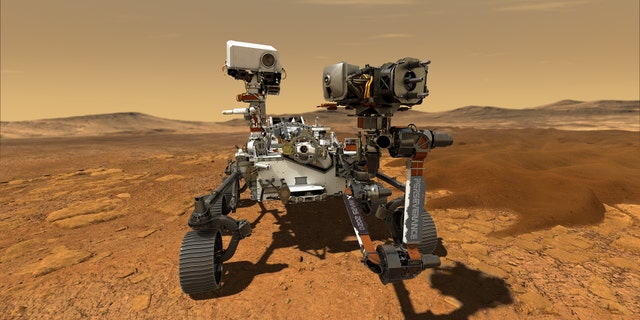 The United Arab Emirates also recently launched its Amal orbiter to the Red Planet. Amal, which is Arabic for Hope, will not land on Mars, but is the Arab world's first interplanetary mission.
So far, the U.S. has been the only country to successfully put a spacecraft on Mars, doing it eight times. Two NASA landers are operating there, InSight and Curiosity. Six other spacecraft are exploring the planet from orbit: three U.S., two European and one from India.
NASA's longer-term goal is to send a manned mission to Mars in the 2030s. However, former astronaut Buzz Aldrin said he thought a slightly later target date of 2040 was more realistic. In an interview in 2016, the Gemini 12 and Apollo 11 astronaut told Fox News that by 2040, astronauts could visit Mars' moon Phobos, which could serve as a sort of stepping stone to the Red Planet.
CLICK HERE TO GET THE FOX NEWS APP
Set against this backdrop, the Perseverance Rover will conduct historic science experiments when it reaches Mars. Chris Carberry, the CEO of Explore Mars, a nonprofit organization aiming to advance the goal of sending people to Mars within the next two decades, told Fox News that Perseverance is a mission of numerous firsts. "It will collect samples from the Martian surface that will be collected later this decade which will be the first time Martian samples have ever been returned to Earth," he explained. "Perseverance carries an experiment called MOXIE (Mars Oxygen ISRU Experiment) that will attempt for the first time to manufacture oxygen from the carbon dioxide Martian atmosphere - proving whether future explorers will be able to 'live off the land' on Mars."
Fox News' Chris Ciaccia, David Aaro and the Associated Press contributed to this report.
Follow James Rogers on Twitter @jamesjrogers