Buzz Aldrin eyes 2040 for manned Mars mission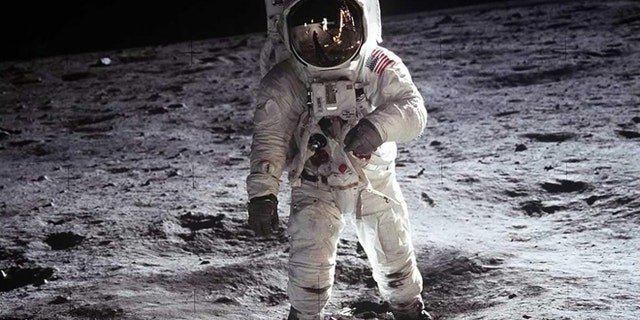 Former astronaut Buzz Aldrin is eyeing 2040 for the first manned mission to Mars, noting that the red planet's moon Phobos could play a vital role for astronauts.
"I think that's a good target date," the 86-year-old space legend told FoxNews.com. "We should be able to reach there with international crews."
NASA's goal is to send a manned mission to Mars by 2035, although Aldrin thinks that a slightly later date is more realistic.
Related: Buzz Aldrin takes on Dick Vitale in March Madness bracket battle
"I'd like to have a few more years [to get to Mars]," he said. "A very attractive time for a president to make a commitment is on the 50th anniversary of America first landing on the Moon, and that's 2019; if you look at two decades from there, you come up with about 2039, so I round that up to 2040."
By 2040, Aldrin explained, astronauts could have visited Mars' moon Phobos, which could serve as a sort of stepping stone to Mars. "From there, people can make the final assembly and check out of all the habitation and final supplies and all the life support systems," Aldrin said. "If they are successful doing that, they can go down and land [on Mars]."
The second man on the moon has already conceptualized the "Aldrin Mars Cycler," a system whereby spacecraft cycle between Earth and Mars. The Cycler aims to reduce the amount of fuel needed for the epic journey, as well as limiting the health risks posed to astronauts by long-term spaceflight.
Related: I could have spent longer in space, says astronaut Scott Kelly
"That's my method for getting people to Mars," he told FoxNews.com. "There would be more people coming in just behind [the first astronauts to land]."
The Gemini 12 and Apollo 11 astronaut is keen for humans to maintain a constant presence on the red planet. "My plan is to occupy Mars, which means that, when we land someone on Mars, it will be occupied --there will be rotating crews, just like the Space Station," Aldrin explained.
Aldrin acknowledges the vast round trip required to visit Mars, which is an average of 140 million miles from Earth. "A mission to Mars is going to take about a half year just to leave Earth to get to Mars and a half year to come back -- then you can't just come back immediately," he said, noting that flights need to be timed around the planets' orbital positions. "All-in-all it's pretty close to a three-year mission."
Related: Year in space paves the way for even longer missions, says Scott Kelly
NASA astronaut Scott Kelly recently spent 340 days in space, a feat which paves the way for longer-term space missions, such as the ambitious plan to send humans to Mars.
"My spaceflights were much shorter," Aldrin told FoxNews.com. "The first one was a little over five days, but then going to the moon it took three-and-a-half days to get there -- a little bit going round and round and then we landed."
"We were really there for less than a day -- only about 20 hours, so it was a rather brief excursion of the moon and three-and-a-half days to come back," he added.
Related: Stunning spaceship concept designs
Aldrin described the incredible experience of returning from the historic 1969 lunar mission, with the Apollo 11 Command Module Columbia re-entering the Earth's atmosphere and splashing down in the Pacific Ocean. "We landed very, very close to where we were supposed to be, and there's nothing more comforting to be descending down, and pretty soon the pressure on the outside is more than the pressure on the inside and we began to smell salt air," he said. "Then we knew we were home."
Mars looms ever larger in NASA's future. Last week the space agency announced a May 2018 launch for its delayed Mars Insight mission to study the red planet. NASA's Mars Reconnaissance Orbiter celebrated 10 years at the red planet on March 10.
Other space agencies are also eyeing Mars. The first mission of the joint European-Russian ExoMars program, for example, blasted off for the red planet earlier this week.
Follow James Rogers on Twitter @jamesjrogers