NASA's InSight Mars Lander 'hears' Martian winds, shares images of Red Planet and other accomplishments
NASA's InSight Mars Lander made history when it touched down on the Red Planet in late November — the eighth successful landing on Mars since 1976. It joined NASA's car-sized Curiosity rover, which has made some interesting finds since it arrived on the planet in August 2012.
And even minutes after it landed on Martian sand, the InSight Lander was already getting to work. In the past week, it has checked several tasks off its to-do list.
"I landed on #Mars a week ago today. Here's what I've been up to so far: Snap first images, Open solar panels, Check health status, Power on instruments, Take preliminary science data for calibration," NASA tweeted on Dec. 4 from an account dedicated to the InSight Lander's mission. The account noted it still had to extend its arm and take pictures of the deck.
It may not sound like much now, but the InSight Lander's journey is just beginning. Here's what the spacecraft has accomplished so far.
Surviving "7 minutes of terror"
The three-legged InSight settled on the western side of Elysium Planitia, the plain that NASA was aiming for on Nov. 26.
After six months, traveling 300 million miles at speeds up to 12,000 mph, the InSight Lander made its way into Mars' atmosphere — but it wasn't an easy task.
"There's a reason engineers call landing on Mars 'seven minutes of terror,'" Rob Grover, InSight's entry, descent and landing (EDL) lead, based at NASA's Jet Propulsion Laboratory in Pasadena, California, said in a statement. "We can't joystick the landing, so we have to rely on the commands we pre-program into the spacecraft. We've spent years testing our plans, learning from other Mars landings and studying all the conditions Mars can throw at us."
On Nov. 26 at 3 p.m. ET the InSight Lander successfully completed its "soft touchdown."
"Touchdown confirmed!" a flight controller called out to fellow NASA employees.
NASA IS GOING THROUGH 'SEVEN MINUTES OF TERROR' TO GET TO MARS
Because of the distance between Earth and Mars, it took eight minutes for confirmation to arrive, relayed by a pair of tiny satellites that had been trailing the spacecraft.
"Flawless," declared JPL's chief engineer, Rob Manning. "Sometimes things work out in your favor."
First photos
Just minutes after it landed on Mars' sandy surface, the 800-pound Insight Lander had already sent back "nice and dirty" images to the space station. Hours later, the spacecraft sent a clearer image of its surroundings.
These images were just the beginning of what the spacecraft is expected to capture during its $1 billion international mission on the Red Planet.
A week later, NASA blasted Twitter with stunning images from the planet's Martian surface at Elysium Planitia, the lava plain where the InSight Lander parked on.
MARS INSIGHT LANDER SHOWS OFF FIRST IMAGE FROM MARS
"Raise your hand if you're in this new photo from #Mars!" NASA wrote in a Dec. 6 tweet. "These two tiny chips contain the names of more than 2.4 million people who signed up to fly with me. We're ON MARS, you guys. You're all honorary Martians!"
Hours later that same day, NASA added, "One step at a time... Now that I've got my arm out, I can start making a detailed 3D map of my workspace, the area right in front of me where I'll place my instruments. Here's more on what I've been doing, and what's yet to come."
"I don't like to brag, but tell me when you've ever seen a prettier solar panel," NASA then joked.
Bruce Banerdt, the mission's principal investigator at NASA's Jet Propulsion Laboratory (JPL) in California, said space enthusiasts can expect more images to be released in mid-December.
"By early next week (Dec. 10-15), we'll be imaging it in finer detail and creating a full mosaic," Banerdt said in an online statement.
NASA'S INSIGHT MARS LANDER REVEALS STUNNINGLY CLEAR PICTURES OF THE RED PLANET
Another camera called the Instrument Context Camera on the Insight Lander will also provide views of the spacecraft's "workspace."
"We had a protective cover on the Instrument Context Camera, but somehow dust still managed to get onto the lens," Tom Hoffman of JPL, InSight's project manager, said in a statement. "While this is unfortunate, it will not affect the role of the camera, which is to take images of the area in front of the lander where our instruments will eventually be placed."
"Hearing" Martian winds
NASA's new Mars lander has captured the first sounds of the Martian wind.
The Jet Propulsion Laboratory released audio clips of the alien wind on Dec. 7. The low-frequency rumblings were collected by the InSight lander during its first week-and-a-half of operations on Mars.
"Capturing this audio was an unplanned treat," Banerdt said in an online statement. "But one of the things our mission is dedicated to is measuring motion on Mars, and naturally that includes motion caused by sound waves."
Scientists agree the sound has an otherworldly quality to it, and they feel as though they're sitting on the spacecraft.
The noise is of the wind blowing against InSight's solar panels and the resulting vibration of the entire spacecraft. The sounds were recorded by an air pressure sensor inside the lander that's part of a weather station, as well as the seismometer on the deck of the spacecraft.
"The InSight lander acts like a giant ear," Tom Pike, InSight science team member and sensor designer at Imperial College London, added in a statement. "The solar panels on the lander's sides respond to pressure fluctuations of the wind. It's like InSight is cupping its ears and hearing the Mars wind beating on it. When we looked at the direction of the lander vibrations coming from the solar panels, it matches the expected wind direction at our landing site."
Stunning selfie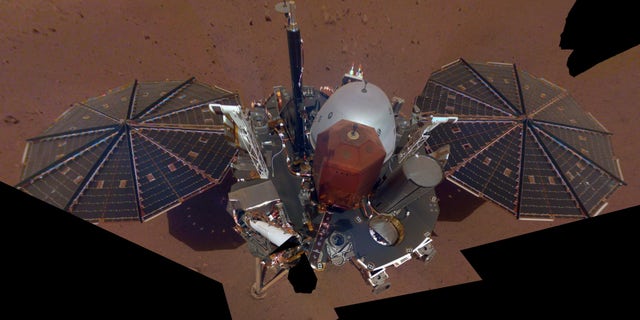 The Mars lander snapped its first selfie from the surface of the Red Planet on Dec. 6.
"The spacecraft used a camera on its robotic arm to take its first selfie — a mosaic made up of 11 images," NASA said in an online statement, noting the spacecraft clearly isn't camera-shy. "This is the same imaging process used by NASA's Curiosity rover mission, in which many overlapping pictures are taken and later stitched together. Visible in the selfie are the lander's solar panel and its entire deck, including its science instruments."
Fox News' Chris Ciaccia and The Associated Press contributed to this report.