NASA Spacecraft to Swoop in on Speeding Comet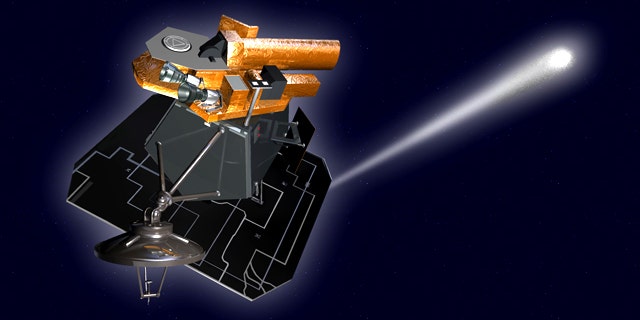 NEWYou can now listen to Fox News articles!
A NASA spacecraft prepares for the closest ever look at a speeding comet.
Next week, the Deep Impact spacecraft is set to pass within 435 miles (700 kilometers) of a half-mile-wide comet named Hartley 2. It will use its telescopes and other instruments to examine the surface and record gas outbursts.
Five years ago, Deep Impact created cosmic fireworks when it released a probe into comet Tempel 1. The resulting collision gave scientists their first glimpse of a comet's interior.
"Hartley 2 has already put on a great show with more than a few surprises for the mission's science team," said EPOXI principal investigator Mike A'Hearn from the University of Maryland, College Park. "We expect more of the unexpected during the next encounter."
The spacecraft was tapped for another mission to rendezvous with comet Hartley 2. Since September, it has been taking images of its target. But the mission's encounter phase begins the evening of Nov. 3, when the spacecraft is about 18 hours from its closest approach to the comet. At that time the spacecraft will stop transmitting through its large high-gain antenna and reorient itself so its two visible-light and one infrared imager maintain lock on the comet for the next 24 hours, NASA said.
"When the encounter phase begins all images the spacecraft takes will be stored aboard its two computers," said Tim Larson, project manager for the EPOXI mission from NASA's Jet Propulsion Laboratory in Pasadena, Calif. "Soon after we fly past the comet at about 7 a.m. local time, we will be able to re-orient the spacecraft so that we maintain imaging lock on the comet nucleus while pointing our big high gain antenna at Earth."
At that point, the spacecraft will begin beaming down its cache of cometary close-ups while continuing to take new images. It is expected to take several hours for all the images held in the spacecraft's memory to be transmitted.
The flyby on Nov. 4 will be the fifth time that a comet has been viewed close up.
The Associated Press contributed to this report.