NASA postpones shuttle Enterprise flight to New York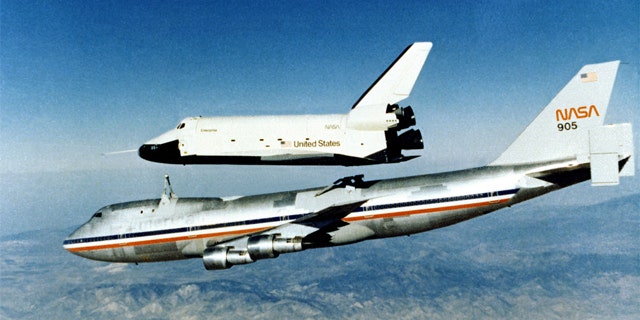 NEWYou can now listen to Fox News articles!
NASA's planned flight of space shuttle Enterprise to New York City Wednesday has been postponed until Friday due to an unfavorable weather forecast, the agency said.
The flight from Washington, D.C., was delayed because of a "large region of low pressure dominating the East Coast," NASA said.
Weather permitting, Enterprise will take flight between 9:30 and 11:30am ET Friday.
The shuttle is heading to New York to go on display at the Intrepid Sea, Air & Space Museum this summer.
Enterprise, NASA's original prototype space shuttle, was reunited on April 20 with the jumbo jet that first ferried it for a series of important test flights in the late 1970s.
The test orbiter was mounted atop NASA's Shuttle Carrier Aircraft, a modified Boeing 747, to be flown to New York's John F. Kennedy (JFK) International Airport in a 200-ton piggyback ride.
The carrier aircraft landed at Washington's Dulles International Airport carrying another shuttle, Discovery, on April 17.
NASA's most-flown spacecraft, Discovery, replaced Enterprise at the Smithsonian National Air and Space Museum's Steven F. Udvar-Hazy Center in Chantilly, Va., last week.
Atlantis and Endeavour, the two other orbiters in NASA's retired shuttle fleet, are set to go on permanent display at Florida's Kennedy Space Center and the California Science Center in Los Angeles, respectively.